MSN PMHNP Questions
There is a lot to consider when looking at advancing your degree to become a Psychiatric Mental Health Nurse Practitioner. We know you have questions. Everyone's situation is unique.
We collected some of the most asked questions for you. Review the answers below.
Contact Us
We are happy to answer any of your specific questions. Just reach out to us.
Our experienced advisors and PMHNP Concertation Coordinator Jennifer Schneider, PhD, MA, RN, PMHNP-BC, are ready to answer your questions.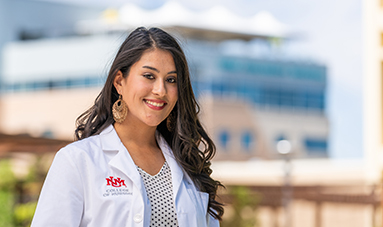 Application Deadline
Summer Entry
August 25 – October 1
Admission considers all verified application received by the deadline.
Transfer Students
You have the questions. We have the answers.
Explore more about transfering to UNM College of Nursing. We cannot wait for you to be part of our pack. 
Support for Your Education
The majority of our students received some form of financial aid – scholarship, grant, loan, work study or teaching assistant position.
We also offer more than $270,000 in UNM College of Nursing scholarships. Individual scholarship amounts range from $200-$4,000 annually.
Admissions, Tuition & Financial Aid
Become a Psychiatric Mental Health Nurse Practitioner
PMHNP Program Contact
Psychiatric Mental Health Concentration Coordinator, Clinician Educator, Assistant Professor
Jennifer Schneider, PhD, PMHNP-BC
College of Nursing
Building 228
Room 328
1 University of New Mexico
Schedule an Appointment with Our Advisors