Valley AIDS Council
About Us
Valley AIDS Council (VAC) – Westbrook Clinic (WBC) is the primary provider of HIV prevention, education and testing services and the only Ryan White funded agency providing medical care and supportive services for people living with HIV in the 3-county area that stretches from the lower Rio Grande Valley on the US/Mexico border.
For over 30 years, VAC/WBC has offered wraparound services including medical diagnosis, treatment and case management targeting populations in the HIV care continuum to achieve a status neutral community in South Texas.
Services Provided at VAC/WBC:
Comprehensive HIV Medical Care
Comprehensive HCV Medical Care
PrEP & nPEP
HIV/STI Testing and Treatment
Medical Case Management & Non-Medical Case Management
Linkage and Retention to Care
ADAP & Ryan White Eligibility
Gender Affirming Services
Behavioral Health
Dental Services
Capacity Building / Project ECHO
C.L.E.A.R. (Comprehensive Risk Reduction Case Management)
TACKLE (HIV/HCV Dual-Diagnosed Program)
Community Mobilization
Family Planning (Title X)
Substance Use Services
Mission Statement
VAC is a non-profit HIV service organization that delivers culturally appropriate sexual health and wellness services in South Texas and advocates for the Latinx population at the local, state and national level.
More Information
Meet the Team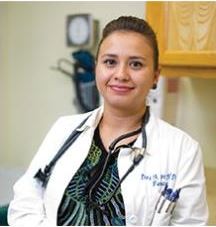 Chief Medical Officer
dmartinez@westbrookclinic.org
Dr. Dora A. Martinez is a native of Harlingen, Texas. She attended Rice University where she received her Bachelors in Sociology and Studio Art. She received her Medical Doctorate (M.D.) from the University of Texas Health Science Center in San Antonio, Texas (UTHSCSA) in 2007. She is board certified in Family Medicine. She also completed a fellowship in Integrative Medicine through the University of Arizona's Center for Integrative Medicine in 2012, and is a certified American Academy of HIV Medicine HIV Specialist.
She has been a clinical professor of Family and Community Medicine for UTHSCSA since 2010 and clinical faculty for the University of Texas Rio Grande Valley's School of Medicine since 2015. She currently serves as the Chief Medical Officer for the Valley AIDS Council (VAC)/Westbrook Clinic, as well as Medical Director of AETC for VAC.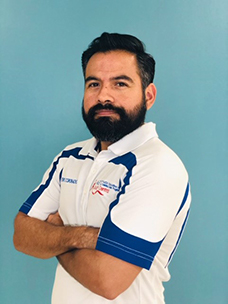 South Central AETC LPS Director
peterc@westbrookclinic.org
Pedro Coronado, CHW - Instructor is the VP of Access and Continuity of Care and the South Central AETC Manager. He started working with the Valley AIDS Council-Westbrook Clinic since May of 2003 and has worked in various key departments of the agency that has provided a structure to his current profession.
He started working part time as an outreach worker targeting youth for HIV prevention. Then he moved on to working with people living with HIV by creating support groups, a peer mentor program, and managing the food pantry program. In 2012 he and a colleague started a Linkage to Care program that was inspired by the HIV Care Continuum model. The program expanded to creating a Retention to Care program and eventually then adding case management ADAP and Ryan White Eligibility.
In 2018 Pedro Coronado was promoted to VP of Access and Continuity of Care which is the umbrella for Medical Case Management, HOPWA, HEI Case Management, Linkage to Care, ADAP/Ryan White Eligibility, South Central AETC, and TACKLE (HCV elimination program for dual diagnosed PLWH). Mr. Coronado has been part of a multidisciplinary team that has launched their annual National Latino HIV/HCV Conference, which focuses on best practices for those working with the Latino community.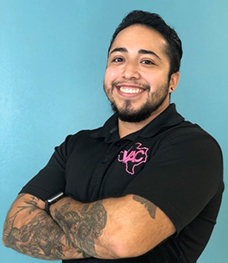 AETC Coordinator
sacamacho@valleyaids.org
Sean Camacho is a transgender individual who graduated from Southern New Hampshire University with a bachelor's degree in Criminal Justice. He is a trans advocate as well as the VP of the RGV Trans Closet which assists trans individuals with clothing necessities. Sean started working with the Valley AIDS Council in 2019 where he currently is the AETC Coordinator.
This project is supported by the Health Resources and Services Administration (HRSA) of the U.S. Department of Health and Human Services (HHS). Under grant number U1OHA33225 (South Central AIDS Education and Training Center). It was awarded to the University of New Mexico. No percentage of this project was financed with non-governmental sources. This information or content and conclusions are those of the authors and should not be construed as the official position or policy of, nor should any endorsements be inferred by HRSA, HHS, or the U.S. Government.