Occupational Therapy Graduate Program
Occupational therapists help people of all ages learn or relearn daily tasks for living. OTs teach patients who are physically, mentally or developmentally disabled skills to live better, more independent lives after illness or injury.  
Apply to the UNM Occupational Therapy Graduate Program to help children and adults regain their independence.  
The UNM Difference
Like the state of New Mexico, the UNM OT program is culturally rich and unique. UNM's research-intensive environment creates an atmosphere of intellectual stimulation and discovery. 
The goal of our 2.5-year program is to provide you with current knowledge in the field and actively build your professional reasoning and problem-solving skills. Graduate well-prepared to deal with complex health and lifestyle challenges of today's society. 
We offer additional enrichment learning experiences, such as international fieldwork programs, interdisciplinary education programs and elective courses in which students serve local communities.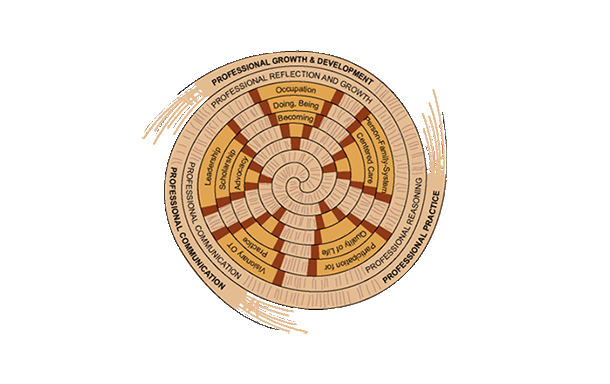 OT Program Newsletter
Stay up to date with our program - check out our newsletter!
Graduation and NBCOT Pass Rates
From 2013–2019, 185 students completed the UNM OT program with a graduation rate of 98%.  
Our National Board for Certification in Occupational Therapy (NBCOT) program results can be found online. Only program graduates are eligible to sit for the NBCOT exam.
Our Mission, Vision and Core Values
The primary mission of the University of New Mexico Occupational Therapy Graduate Program is to:
Prepare competent, ethical, culturally sensitive and compassionate occupational therapists.
Foster the pursuit of scholarly inquiry and dissemination by students and faculty.
Influence occupational therapy practice through service to the community and profession.
Facilitate partnerships for innovation practice through education, scholarship and community service.
Through education, scholarship and service, the University of New Mexico Occupational Therapy Graduate Program facilitates individuals' wellness, productivity, participation and quality of life of people within their community.
Accountability
Collaboration
Commitment to excellence
Community involvement
Innovation in education, scholarship and practice
Respect
Personal and professional growth
Promoting individuality
Responsiveness
Value diversity
OT HRSA Scholarship Grant
The Health Resources and Services Administration (HRSA) has awarded the UNM OT Program a grant to support student scholarships, effective 2020 to 2025.  The award provides financial relief to students who come from disadvantaged economic or environmental backgrounds.  
Students may qualify if they have:
Received a Pell grant for an undergraduate degree and or being a first-generation college student,
Attended a high school with low graduation rates and/or where the majority of students received free or reduced lunch, or
Qualified as having a financial need based on the FAFSA
Students who receive this award will be given funds covering at a minimum 50% of tuition, and possibly more, depending on need and available resources.
Learn more about the grant. Email Janet Werner, Student Success Specialist.
Accreditation
The UNM Occupational Therapy Graduate Program is accredited by the Accreditation Council for Occupational Therapy Education (ACOTE) of the American Occupational Therapy Association (AOTA).
6116 Executive Boulevard
Suite 200
North Bethesda, MD  20852-4929
301-652-6611
Are you a patient looking for care?