PM&R for Medical Students
Physical medicine and rehabilitation (PM&R) touches nearly every field of medicine. At UNM School of Medicine, we believe it's vital to prepare future physicians with well-rounded PM&R experience.
Here, you are part of the care team. As the only Level I Trauma Center in New Mexico, we see a rich diversity of patients from throughout the Southwest who have complex medical needs. There is no case we can't handle—and you'll train in the center of it all.
Two Elective PM&R Clerkships
During your medical school training, you can experience two elective rotations that span four weeks each. You'll train alongside experts, caring for patients from initial treatment through long-term rehabilitation.
Physical Medicine & Rehabilitation
Gain a strong foundation in the primary tenants of rehabilitative medicine. In this clerkship rotation, you will explore PM&R in both inpatient and outpatient settings.
You'll train at UNM Outpatient Clinics, Lovelace Rehabilitation Hospital, UNM Inpatient and Outpatient Rehabilitation Services and the Veteran's Administration.
Course code: CLNS 950L
Sport & Spine Rehabilitation
Enhance your musculoskeletal physical exam skills. In this rotation, you will learn to formulate a differential diagnosis and understand various management strategies of common musculoskeletal concerns. 
You'll get the opportunity to observe a variety of interventional procedures, including ultrasound- and fluoroscopy-guided injections.
Course code: CLNS 950SR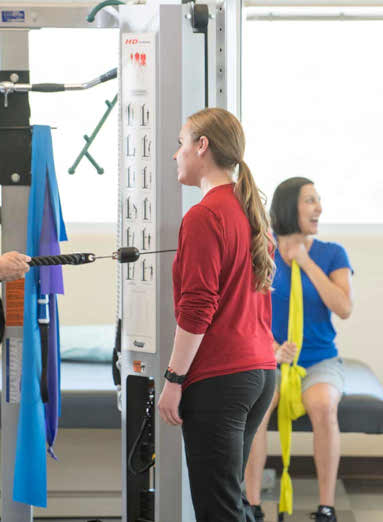 For Visiting Students
Clerkship applications are accepted on a rolling basis through AAMC's web-based system, Visiting Student Learning Opportunities (VSLO).
Physical Medicine & Rehabilitation
Dyanna Monahan
Residency Program Coordinator
PM&R
UNM Hospital
2211 Lomas NE