Department of Pediatrics
The University of New Mexico
The Department of Pediatrics is an academic medical department offering advanced pediatric training for residents, fellows, and graduate students. Our programs train pediatrician leaders to provide exceptional care to patients and families, and prepare them to be effective advocates for child health with the tools to engage in lifelong learning, service, and research.
Our faculty lead 16 medical divisions and numerous centers and programs in pediatric education and patient care, all of which are fully integrated with the university's research mission affording ample opportunities to make meaningful scientific contributions.
Pursue a pediatric residency, fellowship, or graduate program in our American Board of Pediatrics certified, comprehensive pediatric training curriculum. Work alongside passionate doctors. Provide family-centered care to the children of New Mexico. Conduct ground-breaking interdisciplinary research in collaboration with members of the Health Sciences Center and numerous communities locally, nationally, and internationally. Our programs provide a progressive and inclusive learning environment where learners can help shape their experience to meet their career goals.
In the Department of Pediatrics, we continuously strive to do more for New Mexico's youngest generation. We foster multiple opportunities for child health advocacy training to advance child health initiatives on the local, state and national levels. For faculty, residents and staff alike, UNM Pediatrics offers a rich, meaningful opportunity to tackle the most challenging clinical cases while providing compassionate and comprehensive care.
The Only Children's Hospital in the State of New Mexico
UNM Children's Hospital provides outstanding clinical care as New Mexico's comprehensive children's hospital and academic medical center. All children deserve high-quality, accessible health care and we live and work by this mission.
The Department of Pediatrics has a long tradition of serving as an advocate and champion for children's health and well-being in New Mexico. We take that responsibility seriously here at the University of New Mexico's Children's Hospital, where we care for nearly 60,000 children each year with acute and chronic disease drawing on expertise from UNM's School of Medicine. Our children's services provide the very highest level of care to young patients from all around our vast, diverse state through general pediatric and specialty clinics within UNM Children's Hospital, and by traveling to small communities through outreach clinics and community advocacy.
Divisions of the Department
The department houses 16 unique divisions and programs to meet our missions of clinical care, education, research and scholarship, and community service.
50

Residents

9

Fellows

150

Outreach Clinics

60,000

Number of Children Treated at UNM Children's Hospital Every Year

250

Sites Around New Mexico UNM Pediatric Teams Provided Care and Education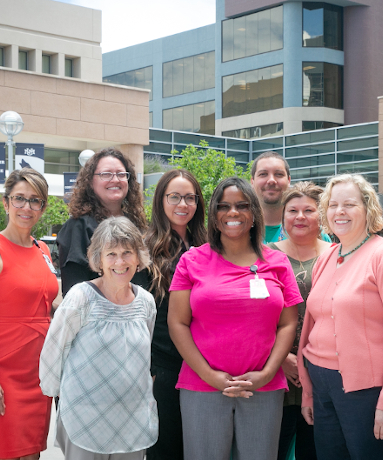 Pediatric Faculty
The Department of Pediatrics faculty are dedicated to the education of our students, the care of our patients, and the discovery of our research. To learn more about our faculty and the great work they are doing, check out our faculty directory.
Are you a patient looking for care?