Life in Albuquerque
Though the unmatched education you'll receive at the nationally ranked University of New Mexico School of Medicine is reason enough to attend, you'll score a sunny, picturesque bonus living in the one-of-a-kind city of Albuquerque.
310 Days of Sunshine Per Year
In livable and affordable ABQ, you'll dwell in the high desert Southwest among a diverse population that's informed by Native American, Hispanic and Anglo traditions. Despite living alongside approximately 500,000 other residents, the city boasts a small-town charm. 
It's one of the many aspects – along with the absence of gridlock traffic and a yearly average of 310 days of vibrant sunshine – that make us proud and delighted to live in New Mexico's largest city. 
Centrally Located to School, Work and Leisure Adventures
Because we're bisected by two major highways, it's easy to get to and from UNM campuses in Gallup, Los Alamos and Taos as well as tourist destinations such as the Georgia O'Keeffe Museum in Santa Fe, Carlsbad Caverns National Park and White Sands National Monument. 
New Mexico: The Land of Enchantment
Near the Rio Grande and the gorgeous Sandia mountains, Albuquerque offers just about everything: a genuine casual elegance, reasonable cost of living, mild weather and juxtaposition of Native American, Hispanic and Anglo cultures. 
The city's adobe architecture, art, and ecology are the essence of everything New Mexican. A mild, four-season climate make this a favorite locale for hiking, trail biking, mountain climbing, hot air ballooning, skiing, snowboarding, skating/longboarding and sunset watching.
Visiting Albuquerque? Places to Explore.
Explore New Mexico
Learn more about all the Land of Enchantment has to offer from outdoor activities to cultural events.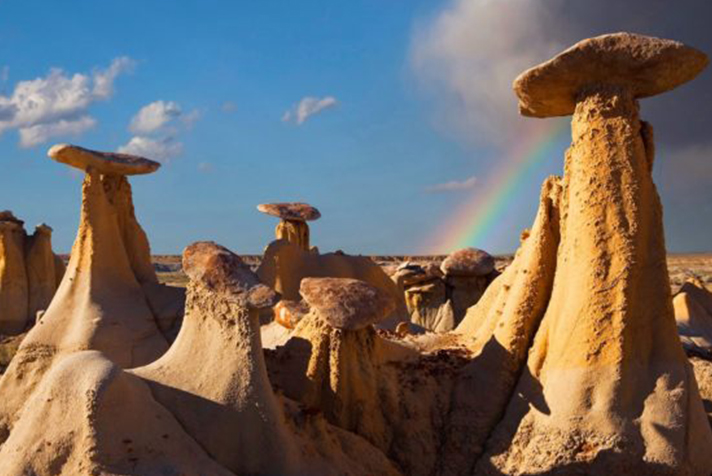 "Hot" Dining Tip: Ask For Christmas Any Day of the Year
For those who love the food and beverage scene, Albuquerque boasts some of the best red- and green-chile cuisine on the planet, not to mention farmer's markets, artisanal coffee shops and microbreweries. In fact, we're known as one of the country's top beer destinations. 
Insider tip: When ordering New Mexican fare such as a savory blue-corn waffle, enchiladas or a breakfast burrito, you'll be asked the state question "red or green?" (Seriously. It's really the State of New Mexico's official question.) Ask for Christmas – smothered in both red and green – and the most delicious plate of December 25 hues will arrive.