International Study Abroad Service Learning
Division of Physical Therapy 2019 Service Learning Trip to Antigua, Guatemala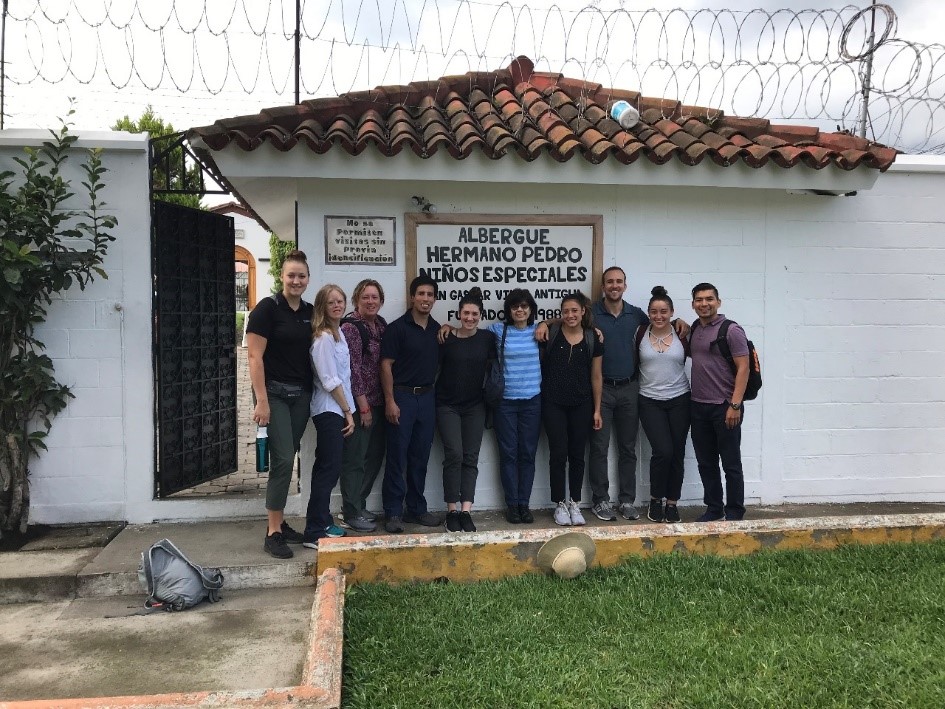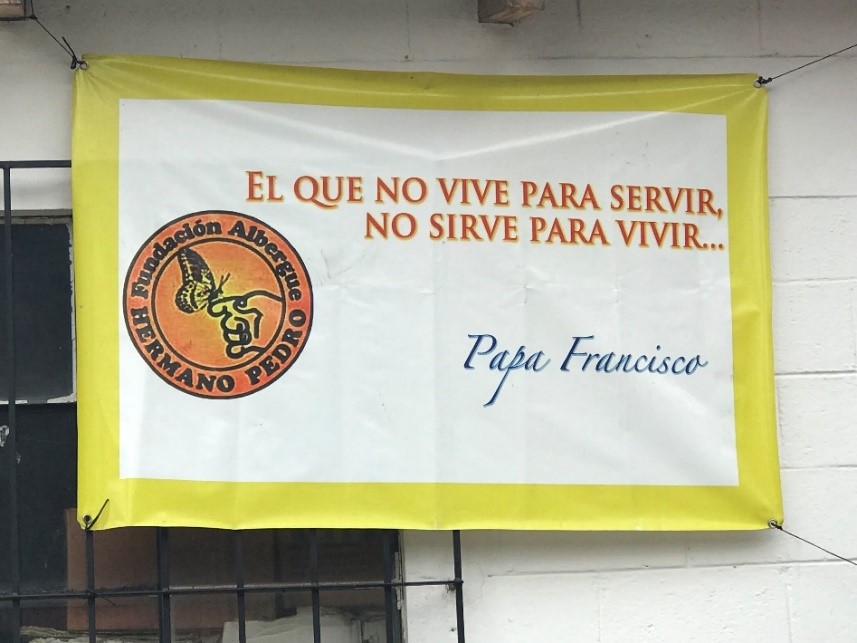 The orphange in San Gaspar;  Philosophy:  "He who does not live to serve, does not serve to live" - Pope Francis

During the break between the end of the summer semester and the beginning of the fall semester, eight second-year PT students, one faculty member, and one clinical instructor took part in a service-learning trip to Antigua, Guatemala. The group spent two weeks living with families in Antigua while volunteering at a local orphanage and a local wheelchair factory. Antigua is a beautiful city with Spanish colonial architecture and cobble-stoned streets. The quoted text throughout the article are the student reflections of the experience.

"My time as a student physical therapist at UNM has afforded me many unique and unforgettable experiences. At the end of the summer of our 2nd year, I had the opportunity to travel to Guatemala to provide pro bono physical therapy services with seven of my classmates, one of our professors, and a PT from the community. Prior to leaving to Guatemala, I was extremely nervous, as an inexperienced traveler, about how I would do on this trip and what it would be like in a country I knew very little about. However, our time in Guatemala turned out to be one of the most fun, educational, and fulfilling experiences of my entire life."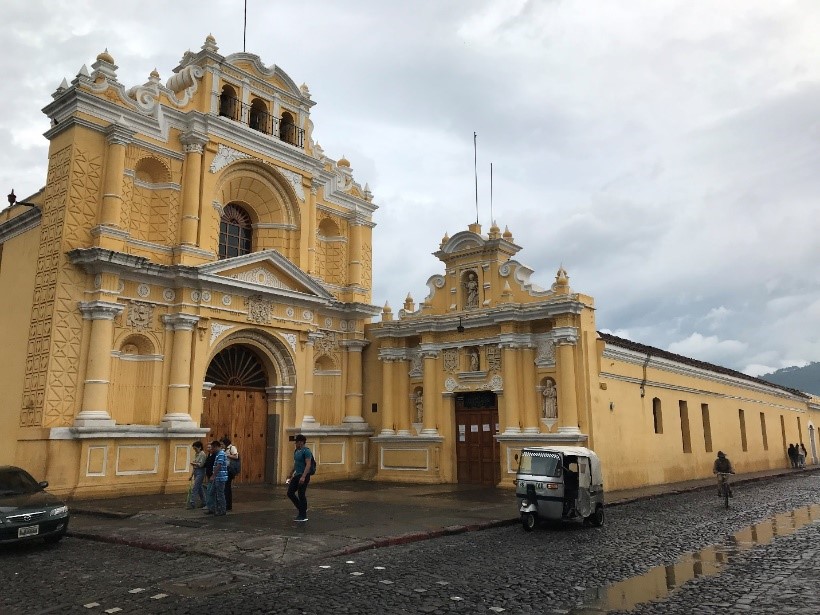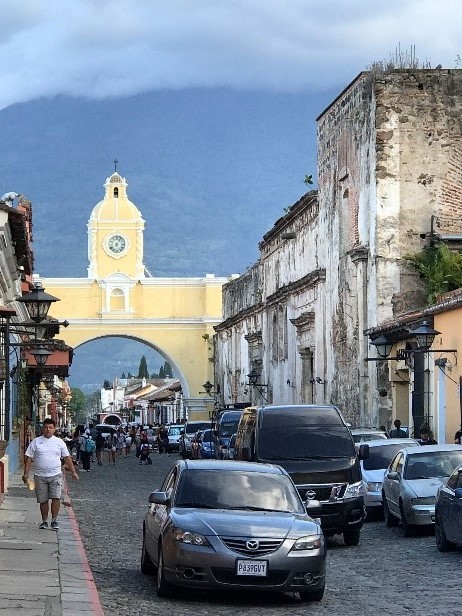 Church of San Pedro Apostol; Santa Catalina Arch, Antigua

"The summer of 2019 I was given the opportunity to travel to Guatemala to provide pro bono services. If you had asked me how I felt the night before leaving, I would explain to you a mix of emotions. I was so excited to help an underserved community, ready to learn from all my fellow classmates, teachers, and people of Guatemala, but also nervous to leave home and go to a new country that I felt unfamiliar with. But if you asked me now how I felt about the trip, I would tell you it was a trip of a lifetime."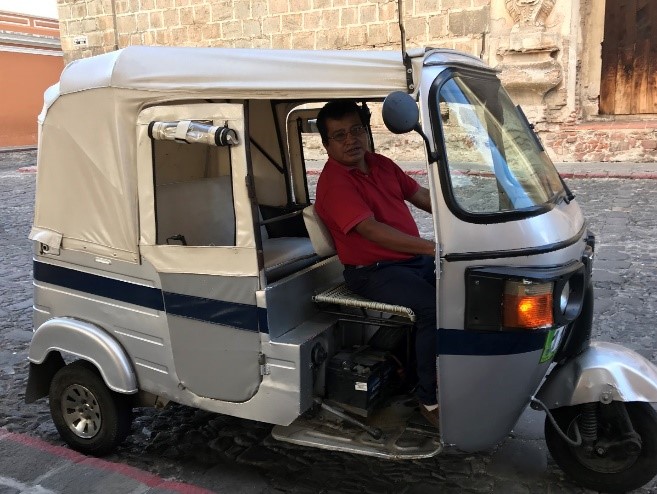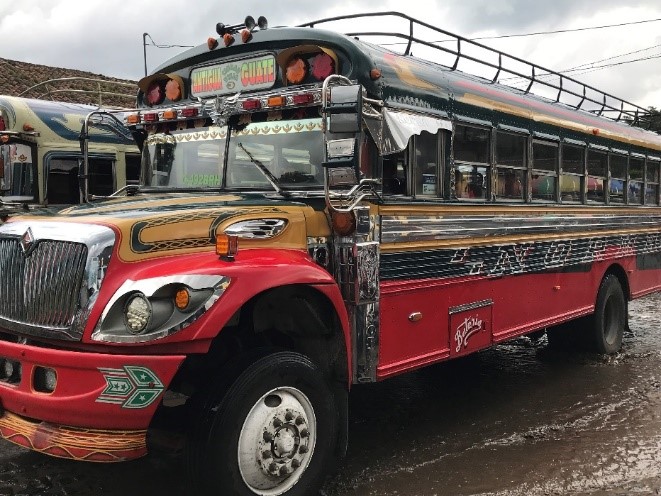 Transportation: Tuk-Tuks & Buses

The city is very walkable, but there are alternative transportation options including Tuk-Tuks, which are three-wheeled mini-taxis, and colorful buses.
In the mornings, the students volunteered at an orphanage in San Gaspar, a small town located 5 minutes outside of Antigua. The group worked closely with the physical therapy staff and provided two types of services. The first was to provide physical therapy treatments to the children with disabilities. The second was to complete wheelchair evaluations and issue wheelchairs to the children with disabilities.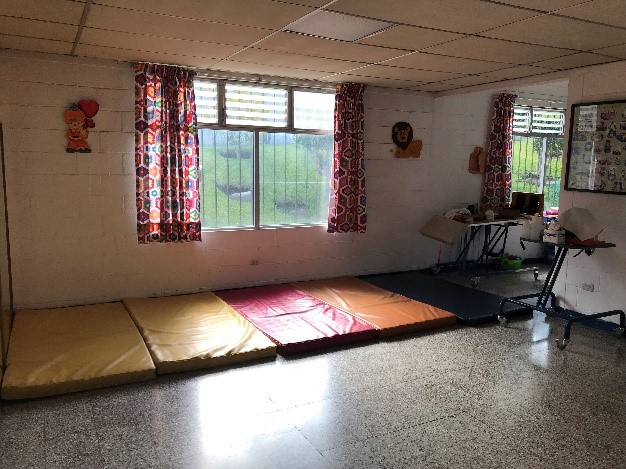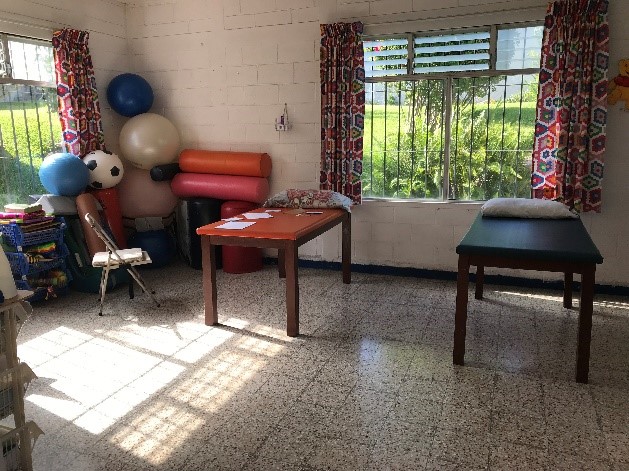 Treatment space at the orphanage                                    

"These children had a variety of impairments and needs and due to the limited resources, treating them gave us the opportunity to really use our imagination and creativity to provide them quality physical therapy care."

"These children taught me patience, adaptation, and creativity."

"The children we worked with at the albergue were extremely involved, which lead to learning experiences only available in a third world country. Despite my ability to understand and communicate with the children, I was surprised how much of a relationship I was able to form with each child I saw. No matter their diagnosis, they were all so happy and excited for their new wheelchairs and for physical therapy everyday."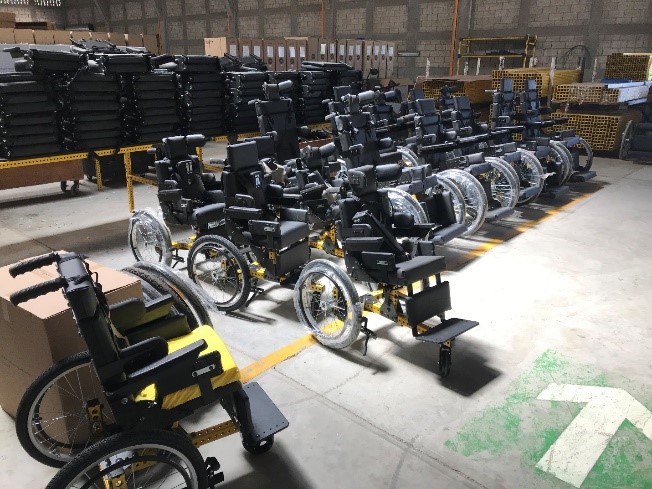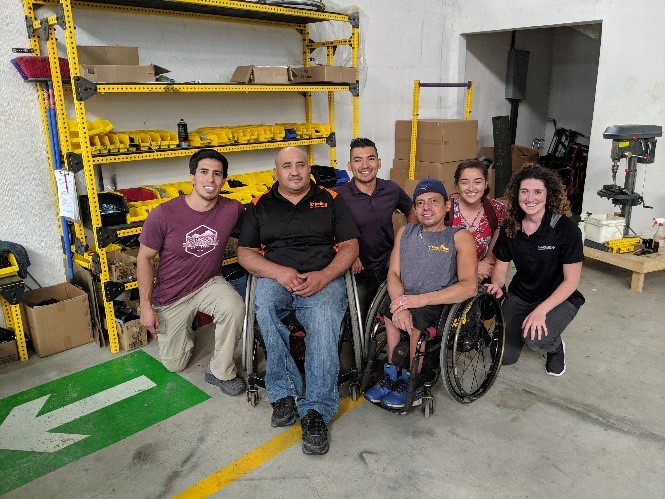 Working together at the wheelchair factory

Throughout the trip, the students worked closely with workers from Mission Impact, Beeline Wheelchair Factory, located in Santo Domingo Xenacoj, either at the wheelchair factory or at the orphanage in San Gaspar to assemble modular wheelchairs and seating systems for use in the orphanage. The PT program had raised enough funds to purchase six wheelchairs for the orphanage.

"Nothing can compare to the hands on learning of getting to work with these children and the problem solving that goes into building the wheelchairs and figuring out how to best meet their needs."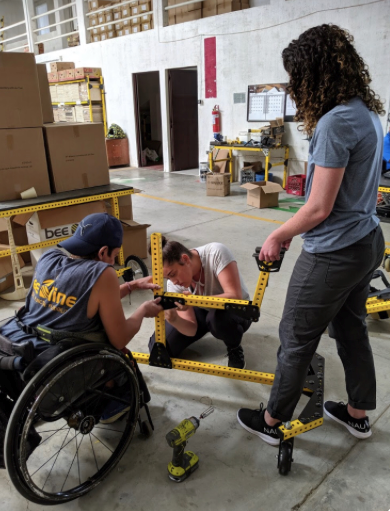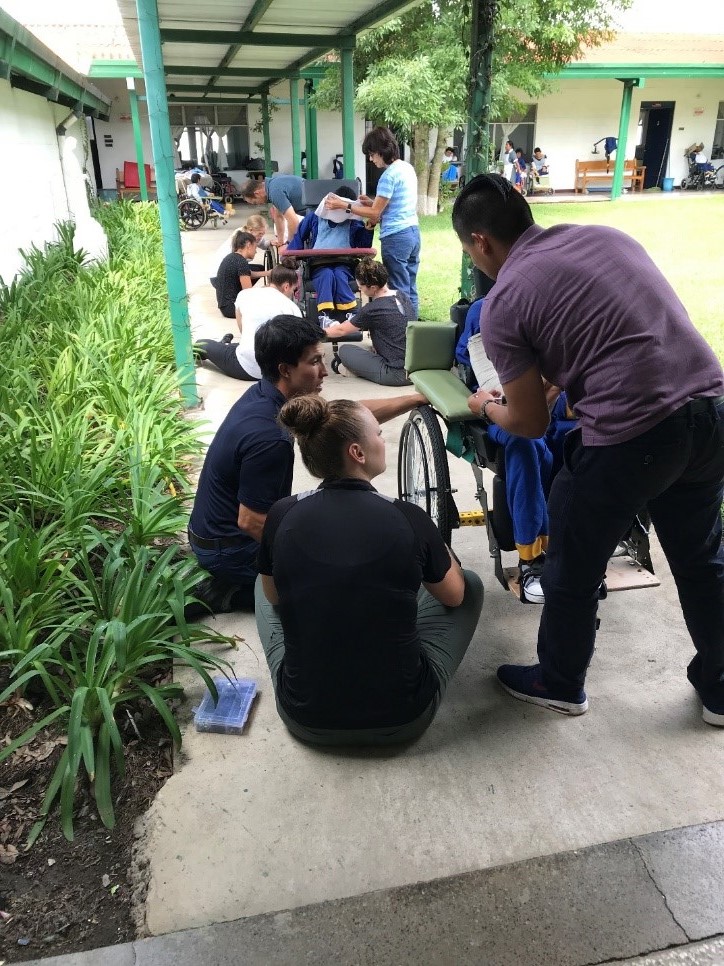 Building new wheelchairs at the factory & repairing older wheelchairs at the orphanage

"I really enjoyed being able to build and custom fit wheelchairs for children who were in significant need of a chair. I was able to put some of my mechanical skills to work, as well as PT skills of properly fitting a wheelchair to a child with multiple impairments. The BeeLine Wheelchairs that they have out there for these children is a unique and an amazing concept. This trip exposed me to individuals who benefit from any service they can receive. It was rewarding to know that we were making a difference in many peoples lives."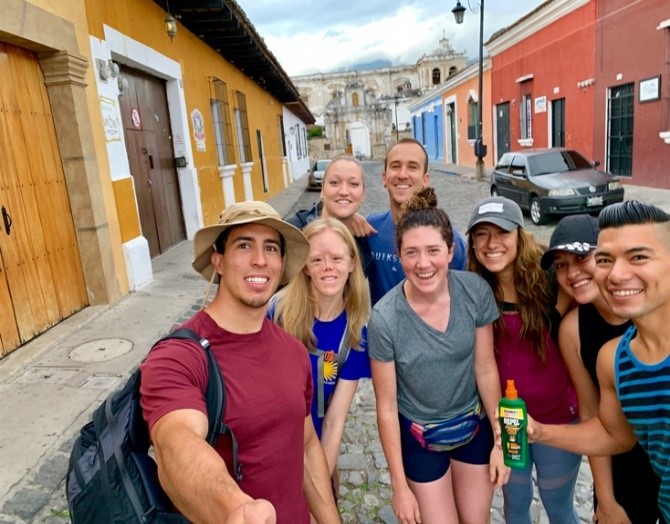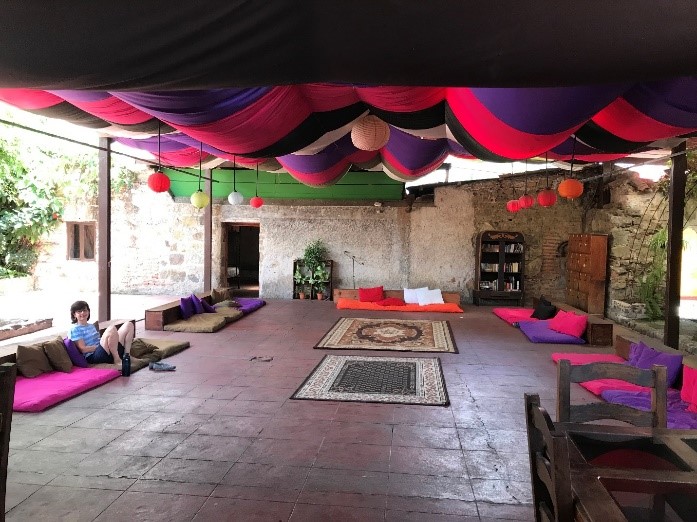 The Sevilla Spanish School                                              

Housing and Spanish lessons were arranged through the Sevilla Spanish School. Every afternoon, the students attended intensive one-on-one Spanish classes.

"We also had one on one Spanish lessons from the locals everyday of the two weeks. These lessons were invaluable as we collaborated with the medical team to provide the best care for our patients. I would recommend this trip to all PT students in the program as it will enhance their clinical reasoning and skills."  

"We all had Spanish tutoring sessions each afternoon. These sessions included one-on-one time with a local Spanish teacher and lead to field trips out and around the city."

All of the students were housed with local host families close to the school, and the students had the opportunity to practice their Spanish-speaking skills over mealtimes.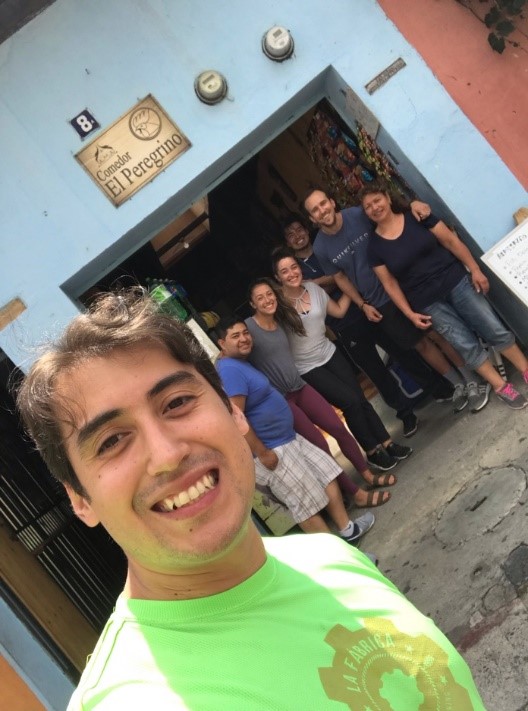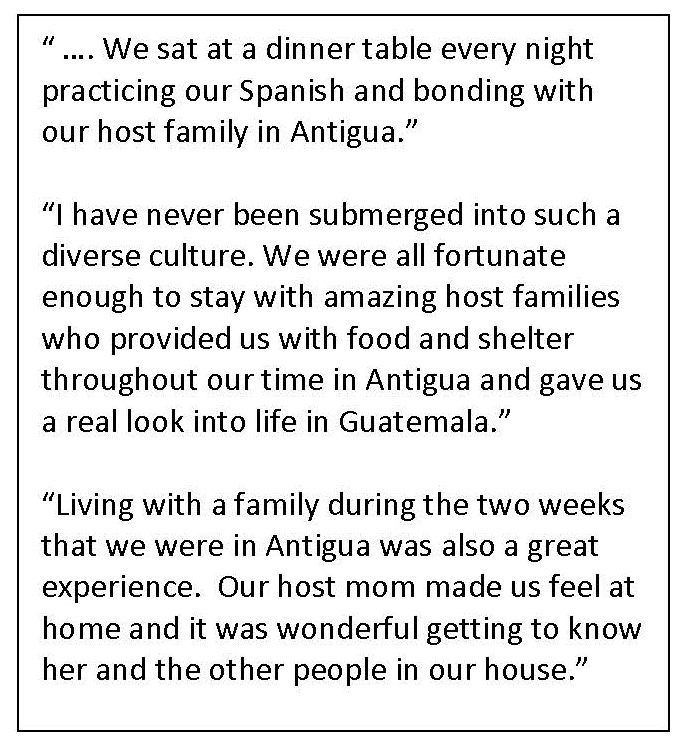 There were many unique places to visit around Antigua during the two weeks.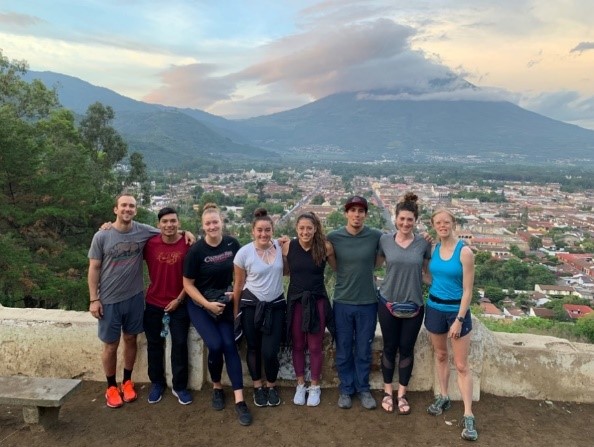 View of the volcano from Cerro de la Cruz
All of the students choose to extend their trip for an additional week to explore other areas of Guatemala.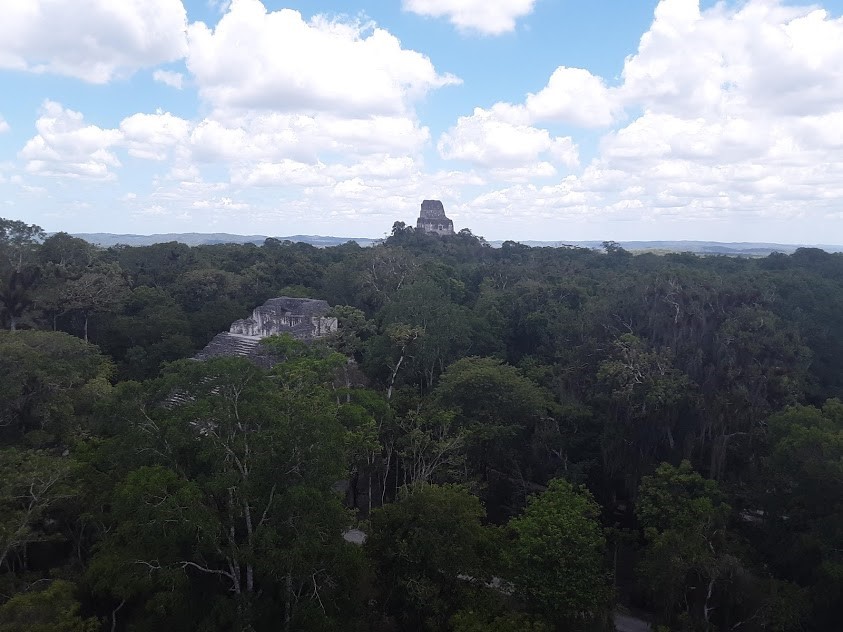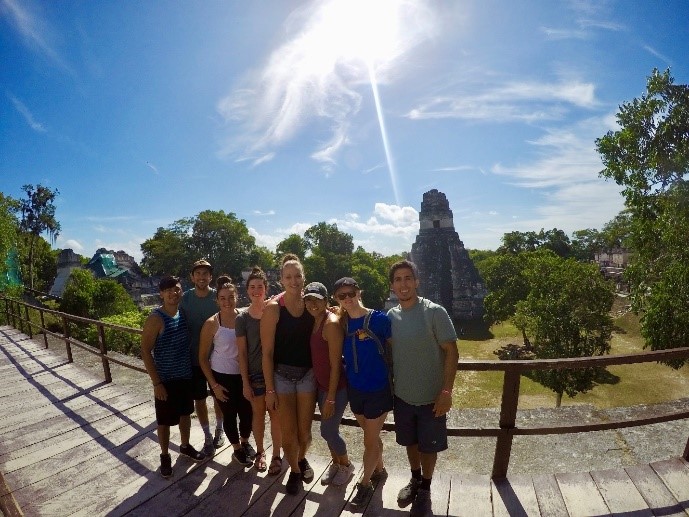 Tikal, the jungle, and The Temple of the Great Jaguar
"We hiked ancient Mayan ruins in Tikal (and) went cave exploring with a single candle for light in Semuc Champey…."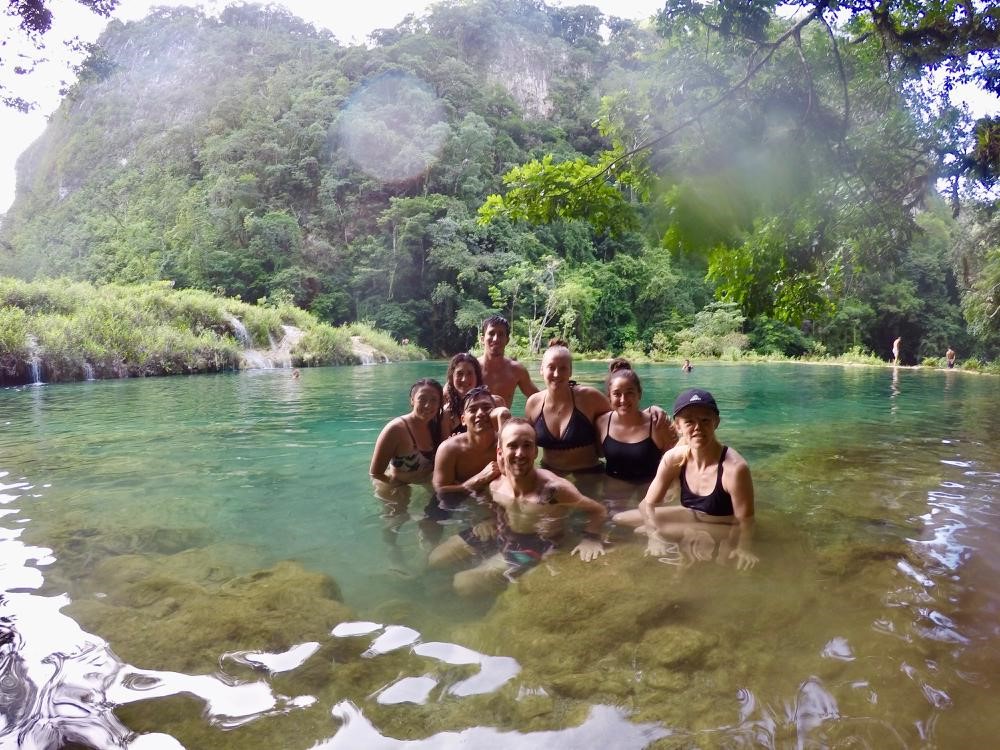 Semuc Champey: Where the river hides under the stones

The service-learning trip to Antigua was an incredible experience for all involved.

"While I went to Guatemala to fulfill a need in their community, I truly feel that I gained more than I could have ever provided. This trip not only helped me grow as a future clinician but also gave me a true appreciation for the welcoming, generous, and humble people of Guatemala. I came home from this trip inspired to participate in outreach to underserved communities at any opportunity given."

"It was also the community of Guatemala that made my stay unforgettable, from the Spanish teachers to the host family, I always felt welcomed and supported. This trip has definitely changed my heart, since returning home I have considered other trips and opportunities to share my passions with other underserved communities. Thank you Guatemala for all your love and lessons!"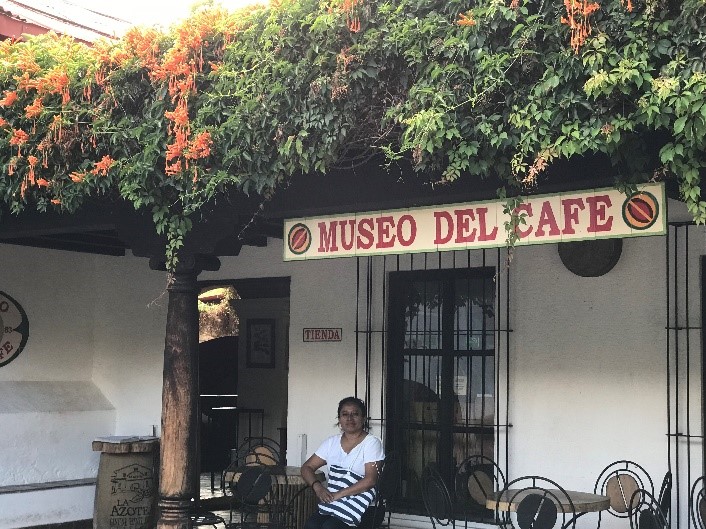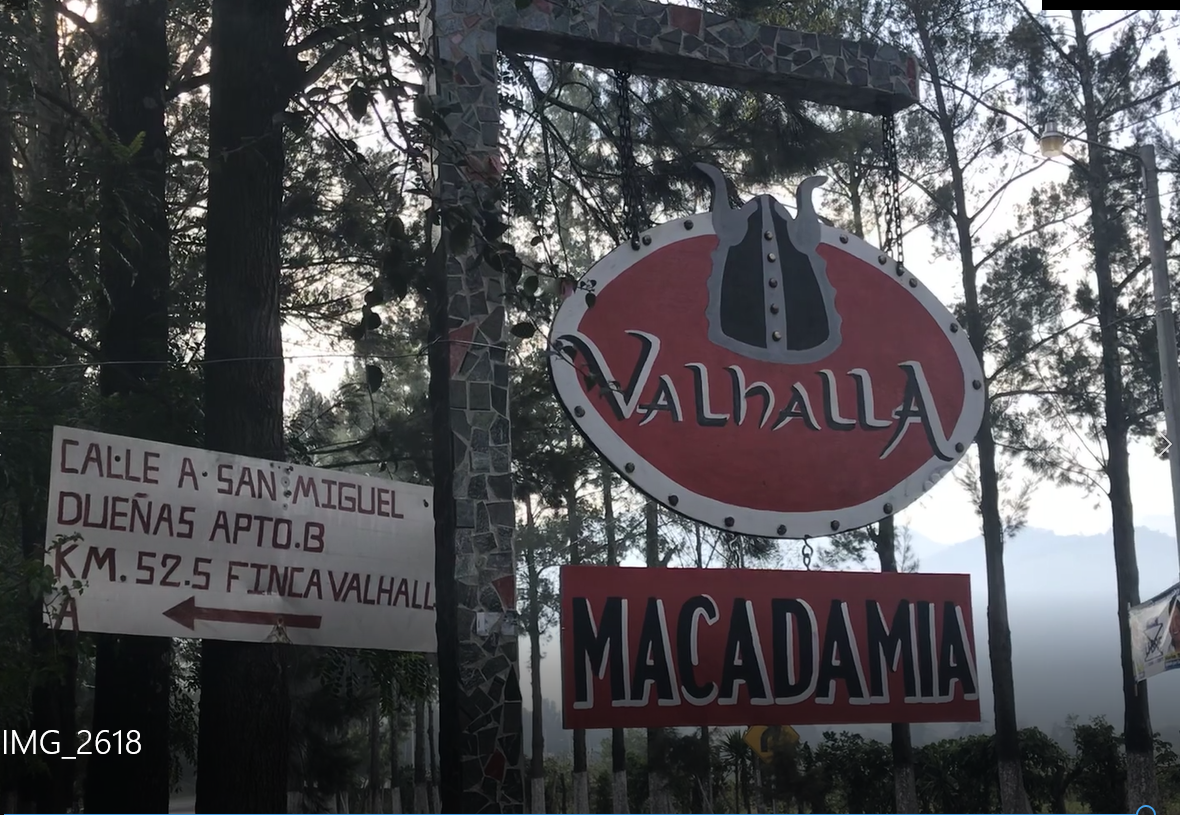 Coffee Tour at Beneficio de Cafe La Azotea & a Tour at Valhalla Macadamia Farm

"Guatemala was an experience I will never forget. I saw diagnoses I would never see in America, worked with amazing children and therapists, learned new skills and about different cultures, and travelled around the most beautiful country. I will continue to use the things I learned with my future patients and throughout my career."

"The experience that I received traveling to Antigua, Guatemala is something I will never forget. The people were friendly, the food was great, and the history within the city was very interesting." …. I would love to return in the future to once again provide physical therapy services and explore this country."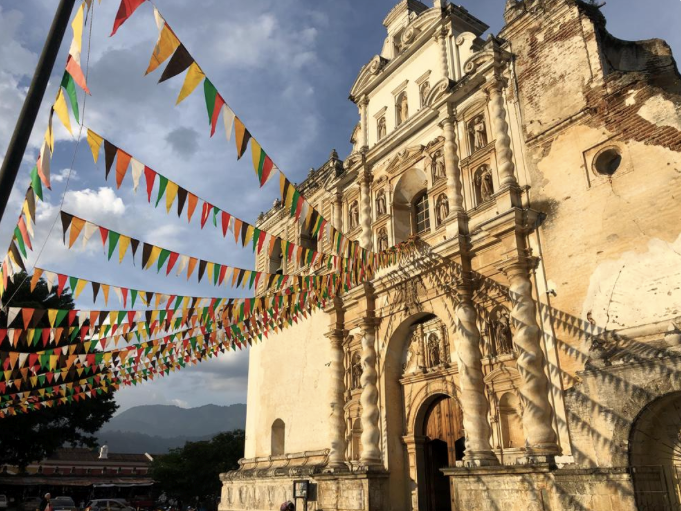 Iglesia de San Francisco el Grande

Contributors: Monica Abeyta, SPT; Colin Hansen, SPT; Nate May, SPT; Thomas Mayfield, SPT; Ana Romero-Jurisson, SPT; Kerstin Strong, SPT; Mercedes Van Meter, SPT; Dominique Patterson, SPT; Geri Martinez, PT; Sue Leach, PT, PhD.
---
Division of Physical Therapy 2019 Service Learning Trip to Ethiopia

The UNM DPT Program recognizes the importance of service-learning and its link to building future leaders dedicated to serving and advocating locally and nationally for the health of individuals and communities.

Dr. Burke Gurney, UNM Emeritus Professor, established the service learning program in Addis Ababa, Ethiopia and led the first group of students in 2018. In May of 2019, students Chanae Esquibel, Ryan Fresquez, Kevin Williams, Rachel Granzow, and Luke Chavez accompanied trip leaders Dr. Deborah Doerfler, Assistant Professor, and Dr. Julie Jordan, Adjunct Faculty, to Addis Ababa.
Service-learning settings included Tikur Anbessa (Black Lion) Hospital, Paragon Physiotherapy and Sports Medicine Clinics, and the Adult and Pediatric branches of Missionaries of Charity. The clinical experiences were diverse, from providing skilled physical therapy to patients with complex neurological and orthopaedic conditions to working collaboratively with staff and educating technicians, patients, and family members at Missionaries of Charity.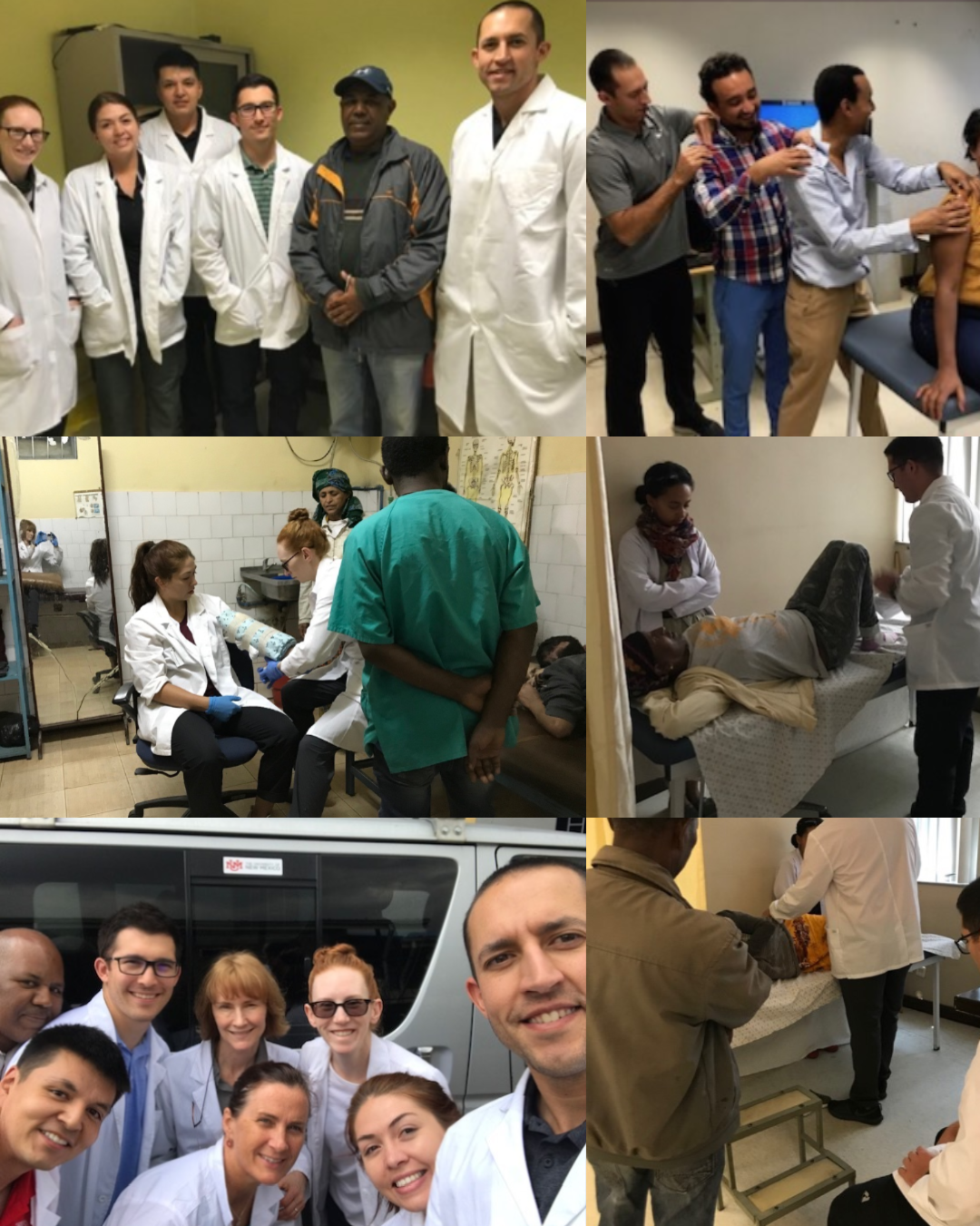 Upper left:UNM DPT Students beginning their first day at Black Lion Hospital: Rachel Granzow, Chanae Esquibel, Luke Chavez, Ryan Fresquez, Solomon Legesse (our astute driver and guide), and Kevin Williams
Upper Right: Kevin Williams, local PTs and Dr. Mekonnen sharing a laugh during their "group" mobilization technique.
Middle Left: DPT students Chanae Esquibel and Rachel Granzow provide training in splinting the upper extremity and positioning techniques to reduce the risk of contractures at MOC.
Middle Right: DPT student Ryan Fresquez and Dr. Hiwot Zelalem providing physical therapy to a patient at Black Lion Hospital.
Lower Left: Last day at Missionaries of Charity
Lower Right: Student providing manual treatment to a women with spinal dysfunction at Black Lion Hospital.

Similar to the University of New Mexico Hospital and the UNM Health Sciences Center, Black Lion Hospital is the academic medical center and primary teaching hospital for Addis Ababa University. It serves over 300,000 patients annually providing healthcare for the residents of Addis Ababa and surrounding rural communities. While the hospital is the main tertiary referral center of Ethiopia, it lacks the resources to meet the enormous number of medical needs of its patients. Similarly, there is a critical shortage of physical therapists, yet the need for physical therapy services is vast. We were fortunate to work with clinical instructors, Dr. Winnie Mekonnen and Dr. Hiwot Zelalem, both graduates of the only DPT program in Ethiopia. It was common to see patients at Black Lion Hospital who traveled many miles for PT services. For example, one patient who worked as a house cleaner traveled over 400 miles. A local charity provided shelter for her, while she received daily physiotherapy over the course of two weeks. All PT students remarked on a consistency they observed among patients treated at Black Lion Hospital: the diligent adherence to their home program, and how it paid off with remarkable progress in a very short period of time.

Dr. Theodros Gebriel, DPT and owner of Paragon Physiotherapy and Sports Medicine Clinics, generously provided opportunities for the students to expand their manual therapy skills while seeing patients in an orthopaedic setting. Dr. Gebriel and his PT staff are dedicated to providing western standard-of-care to patients while serving as a model of excellence for physical therapy in the Ethiopia healthcare system.

Missionaries of Charity (MOC) was founded in Calcutta, India by Mother Theresa in 1946, with the goal of serving the "poorest of the poor". Since its establishment, MOC has expanded to multiple locations around the world. All students agreed that the experience at MOC was unforgettable.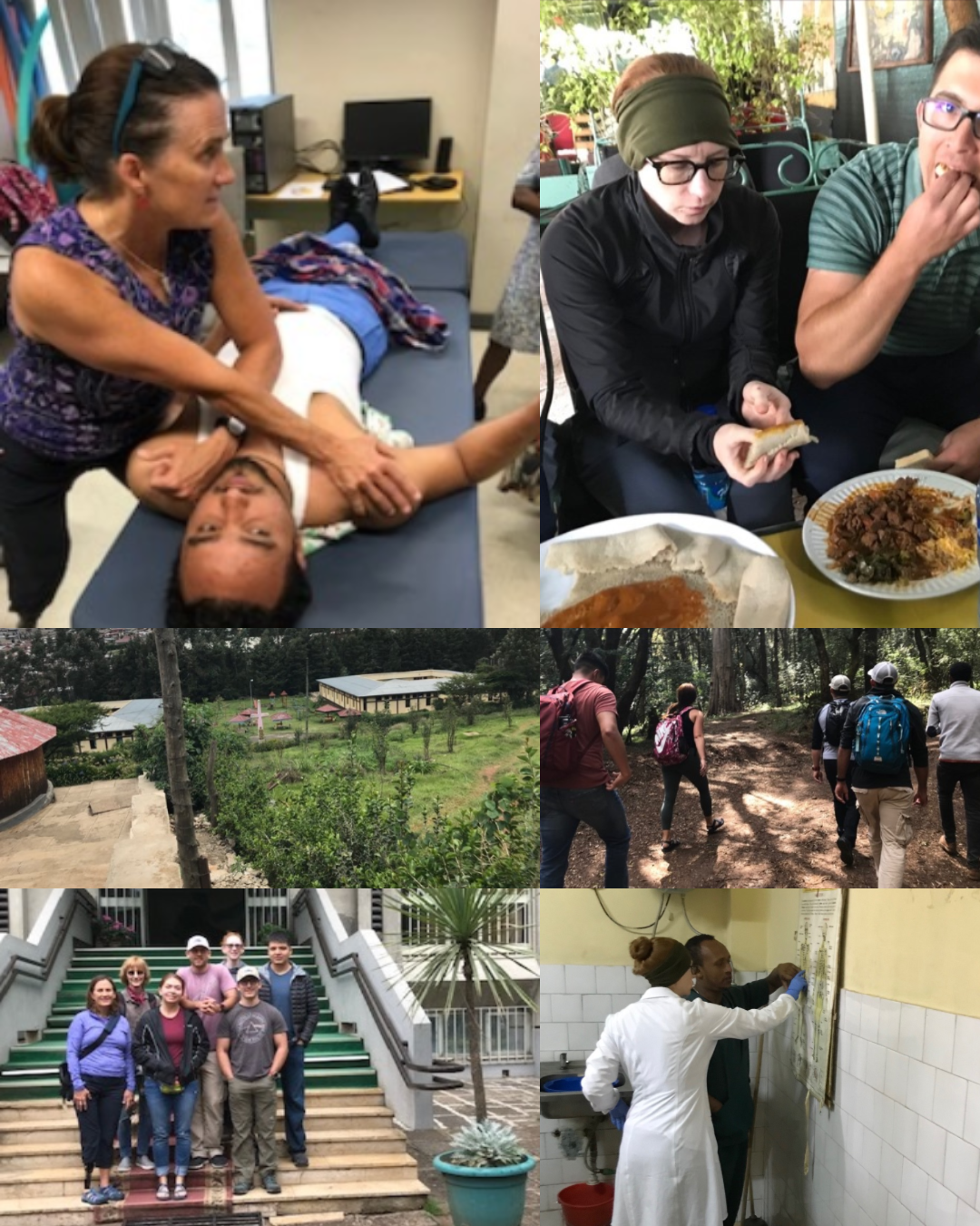 Upper left:Dr. Julie Jordan demonstrating a shoulder manual therapy technique during an educational session for local PTs.
Upper Right: Students enjoying "injera" the traditional sourdough flatbread used as a spoon to scoop the spicy stews and vegetable sauces.
Middle Left: The pediatric campus of Missionaries of Charity in Addis Ababa.
Middle Right: Students and instructors took advantage of the Derg Downfall National Holiday to hike in the Menagesha National Forest, near Addis Ababa. Black and white colobus monkeys, baboons and endemic forest birds were sighted during the visit.
Lower Left: We toured the National Museum of Ethiopia that houses the archeological findings of "Lucy" and "Selam" (an adult and a 3-year old female hominin – a distant cousin to modern homo sapiens) estimated to exist 2.2 and 2.3 million years ago.
Lower Right: Rachel Granzow and one of the MOC technicians discussing pathoanatomical dysfunction of the pelvis.
 DPT student Chanae Esquibel provides her perspective:
MOC has been one of the most amazing experiences of my life. I am truly thankful for this experience; it opened my eyes to the perseverance of individuals and the need for educated healthcare workers around the world. MOC had roughly 600 individuals sheltered in a men's and women's ward. There were different rooms for different diagnoses; for example, tuberculosis, wound care, bed ridden, and heart/liver disease. The therapy gym was located next to the women's ward and the PT treatment worked like an inpatient and outpatient rehab unit. Some individuals would walk or wheel to the gym, some villagers would bring their children from outside of the ward, and many of the sicker patients would be seen at bedside or brought to the gym by the staff. Some of the patients whom I remember most included an individual who sustained a spinal cord injury a year prior from a motor vehicle accident. Her sitting balance was adequate, but when asked to go to a prone position it took two individuals to assist her. She was able to transfer from her wheelchair, but she was at risk of shoulder pathology due to improper technique. We were able to educate her and the techs on "head-hips" and rolling techniques. By the time we left she was rolling independently and using head-hips to lift herself onto an elevated surface. A patient with extensor tone was able to stand after we educated the techs on techniques in the parallel bars and show them proper positioning on how to use her extensor tone to their advantage. A four year-old child with spastic quadriplegia came to MOC from the village. A children's book that we included in our donated supplies from NM, and a new experience for this child, served as a great facilitatory technique to promote visual tracking and head control. Last but not least, is the patient who touched my heart the most and will stay with me for the rest of my life. She was a young adult, who suffered a traumatic brain injury (TBI) and hip fracture. The injury occurred eight months prior, she had been at MOC for 22 days but had not been out of bed. Multiple joints were becoming contracted and she was at high risk for skin breakdown. Her mother was there every day/night trying to help her daughter to the best of her ability. Communication to the patient and family was limited and the patient was resigned to the bed for most of the day. We educated the staff and mother on positioning, using pillow splints for elbow and hand contractures, and the need to get her out of bed. By the time we left (only two weeks) her joint motion had improved, she was sitting at the edge of the mat with one hand support and stand-by-assist. We were able to educate the staff on prone positioning, the importance of upright positions and even managed to get her in an old standing frame with the use of many scarves and people! She was more alert and oriented, attempting to communicate with everyone by grunting and hand gestures, and had a smile that lit up the room. She began progressing to bridging and rolling side to side using the bed rail. This allowed the staff to engage with her more and see that she was "there". We educated the staff on the progressive changes that can be expected in many patients with TBI, the outcomes and prognosis that can occur and the importance of getting her moving and engaged. She and her mother were so grateful! This taught me the profound impact education can have on outcomes, which I will continue in the care of my patients.

Perspectives from other DPT students on their experience in Ethiopia:

Ethiopia is an amazing place. The people, the food, the market, and the city were like nothing I had ever experienced before. It is one of the most culturally diverse places I have ever been. I really enjoyed the time I spent at Black Lion. It was nice treating patients with a classmate and with a local PT. I also learned that PTs in Ethiopia can give injections, prescribe medications, and order imaging. This trip gave me first-hand experience on the importance of being culturally sensitive. This will help in my practice as a PT given that we live in a very diverse state.

I know we made a difference not just in the lives of the patients, but we taught the staff new things that they will be able to take into the future and help many more patients to come. It was so rewarding to put into practice everything we learned in neuro this year to help people who really needed it. Coming here allowed me to see things I would probably never see in the US. It was also a great chance to learn how to teach the things I know to other staff members, much in the same way as I may have to do in the future with techs or PTAs. The teamwork with everyone there was a great experience and I felt very proud of everything I was able to offer. I will never forget the patients I saw! They made such an impact on me. They were hard working, with great attitudes, and a dedication to their own care. I'm so grateful for this experience.

With even less equipment, and generally greater comorbidities, it was often a challenge working with these patients. Here we became more of the teachers rather than the learners, which provided us a great opportunity to practice the skill of teaching. With a language barrier we were challenged even more but were able to communicate effectively enough to get our points across. I am more culturally sensitive after this trip. The people there act differently from the people here in the states and handle pain differently as well. I know not to assume that people are the same and this trip was a great reminder of how different people really are. I feel that I can handle situations like minimal equipment, resources, or lack of communication better than before.

The things I learned were pretty valuable like how physical therapy is done in that country and how to adapt to a different culture and group of people. It was also valuable because you don't have many resources so you have to improvise, which is something I have done before, but not quite to this extent. I liked how we were able to see some of the same patients and make a difference in some that had not experienced a prior difference.
---
Fostering Global Health, a Student Perspective
---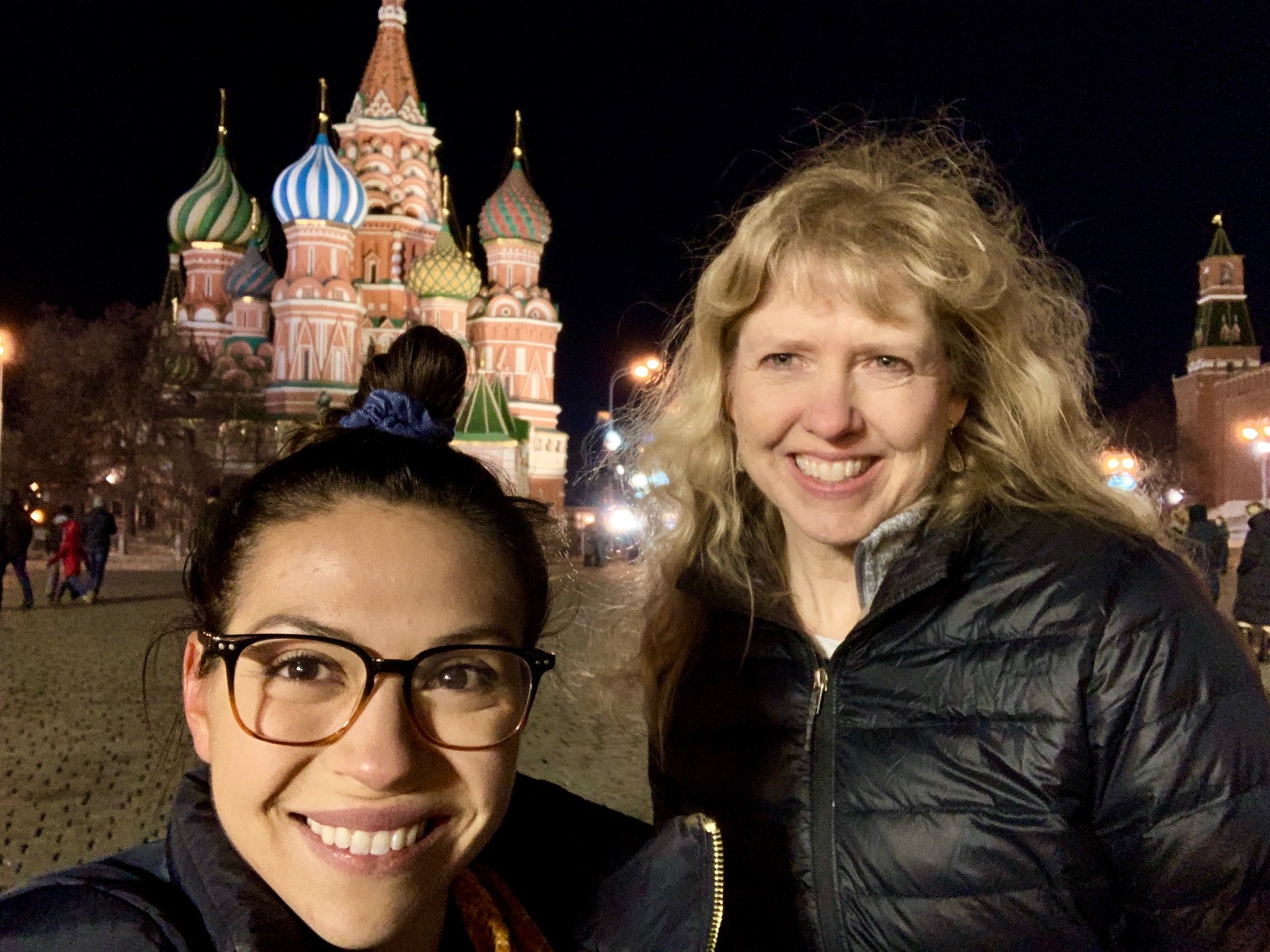 Travelling out of the country is way out of the comfort zone of this small town Northern New Mexican girl. Travelling out of the country for the first time with my school program to present physical therapy evidence to 30 Russian health professionals, all without my mom, is light years out of this girl's comfort zone!
When I first heard about the international trips that students have the opportunity to take, I was so interested, but knew that I would probably never work up the courage to actually take part in them. However, when I heard about the Russia trip from Dr. Barkocy, I thought that might be something I could step out of my comfort zone for, so I did. I committed before I had the chance to second guess my decision, and it truly was one of the best decisions I've made.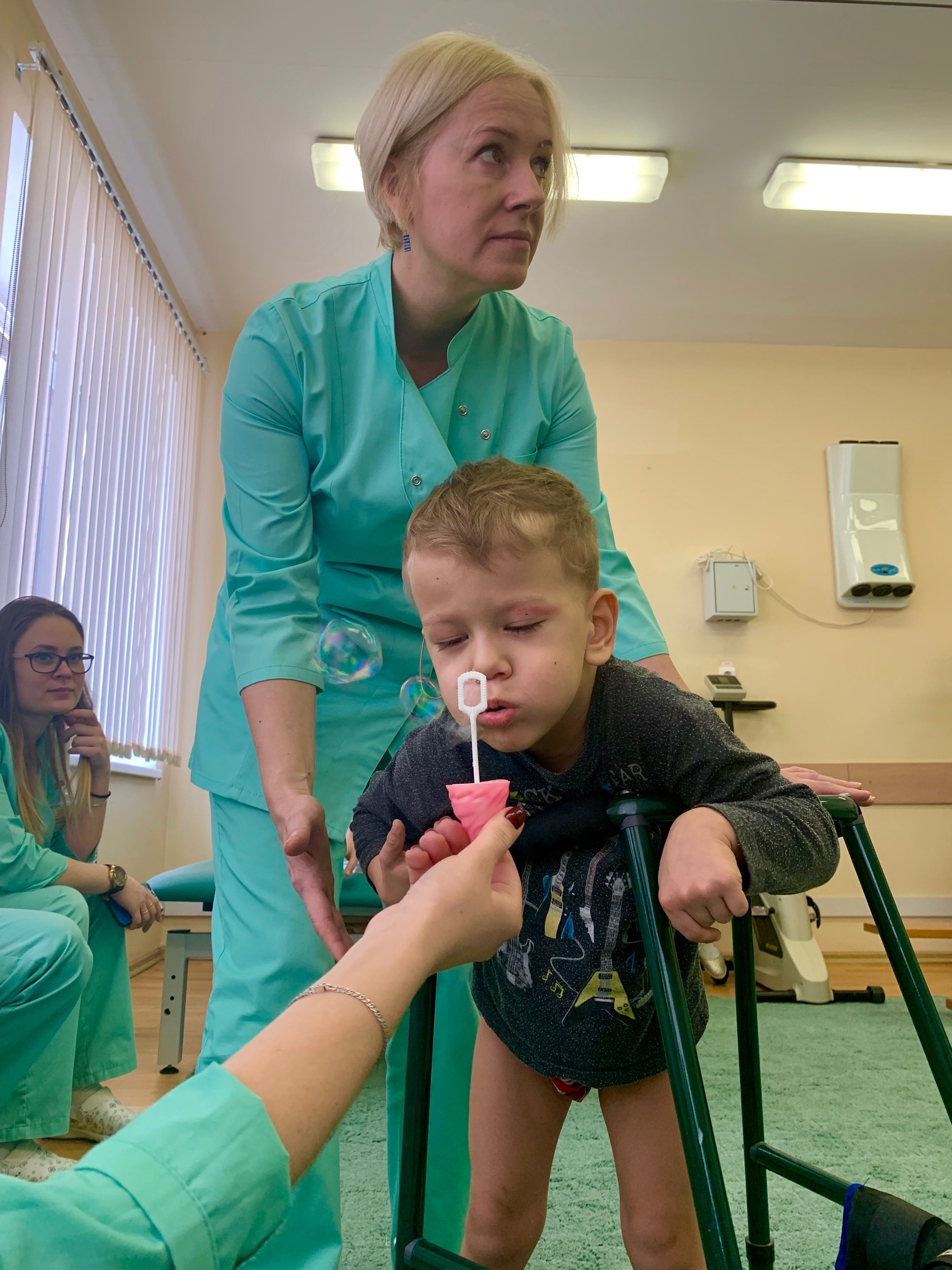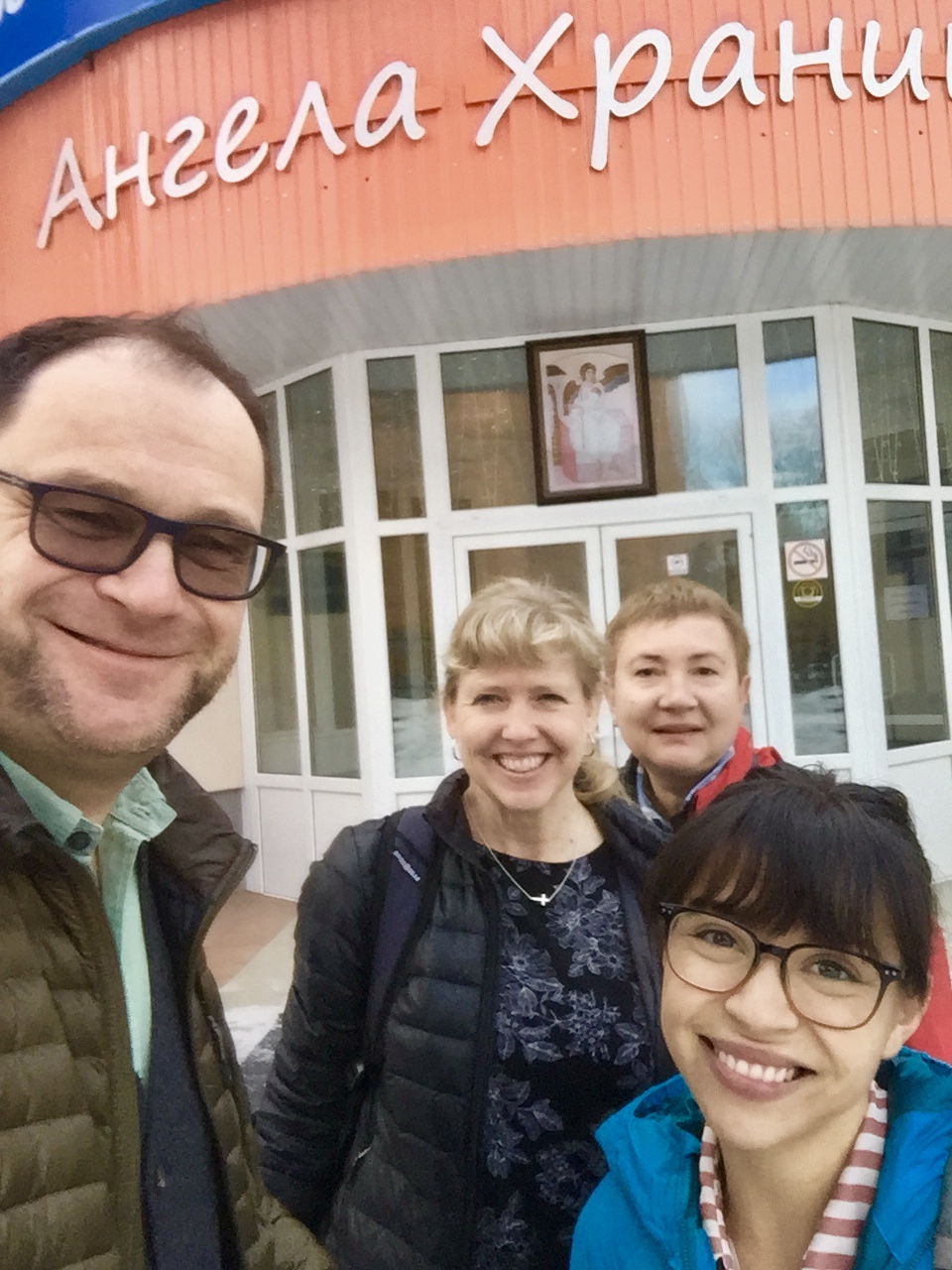 While in Russia, we visited Red Square, ate the traditional Borsht stew, presented PT evidence-based practices to extremely dedicated individuals and treated some of the cutest kids I've ever seen! In Russia, where the standard of care for children with Cerebral Palsy is massage and salt rooms, we met so many passionate people eager to learn from Dr. Barkocy. Their willingness to learn enables them to provide the most effective treatment to their patients. It was amazing to witness all of this and learn from them as well.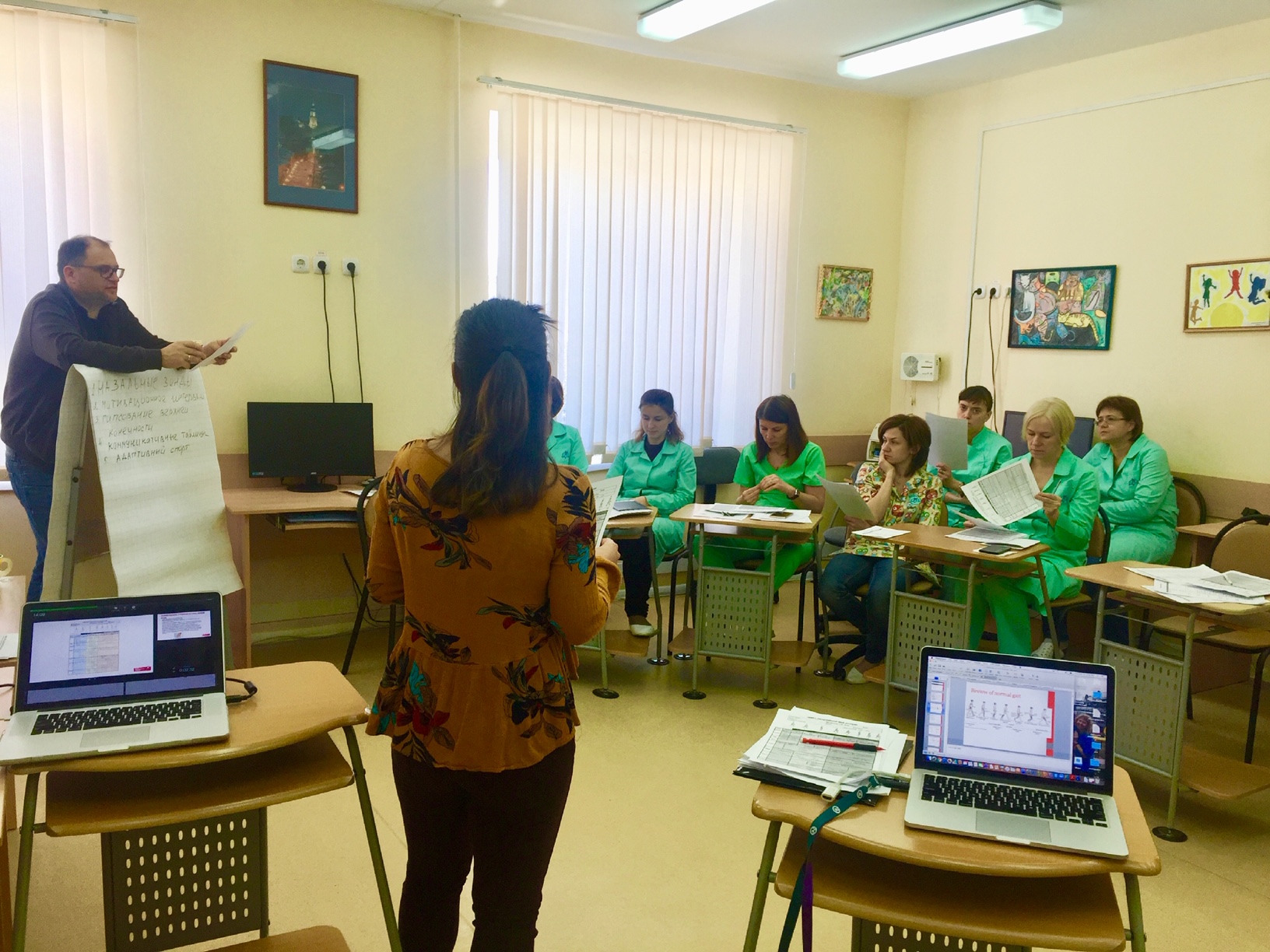 Although the week was jam packed with information for them, from my presentation on upper extremity interventions, to Dr. Barkocy's lecture on gait observation, they were so excited for what the week had in store for them. It was inspiring to see people so passionate about what they do and about the children they treat. As a student, this trip helped me grow by allowing me to stand in front of others and present what I know. It taught me so many things about being a compassionate provider, how to collaborate outside of my small SPT circle, and so much about pediatric physical therapy.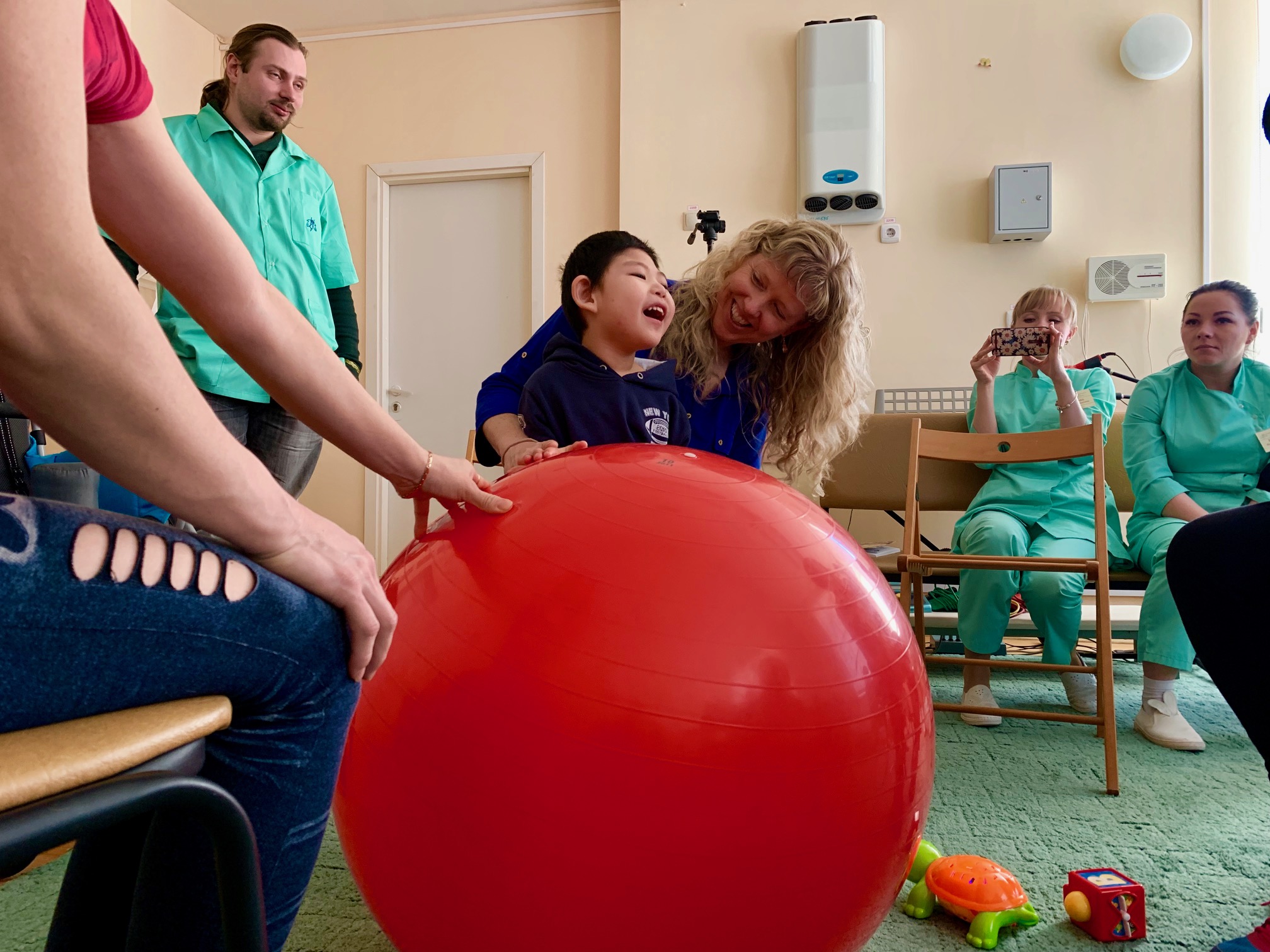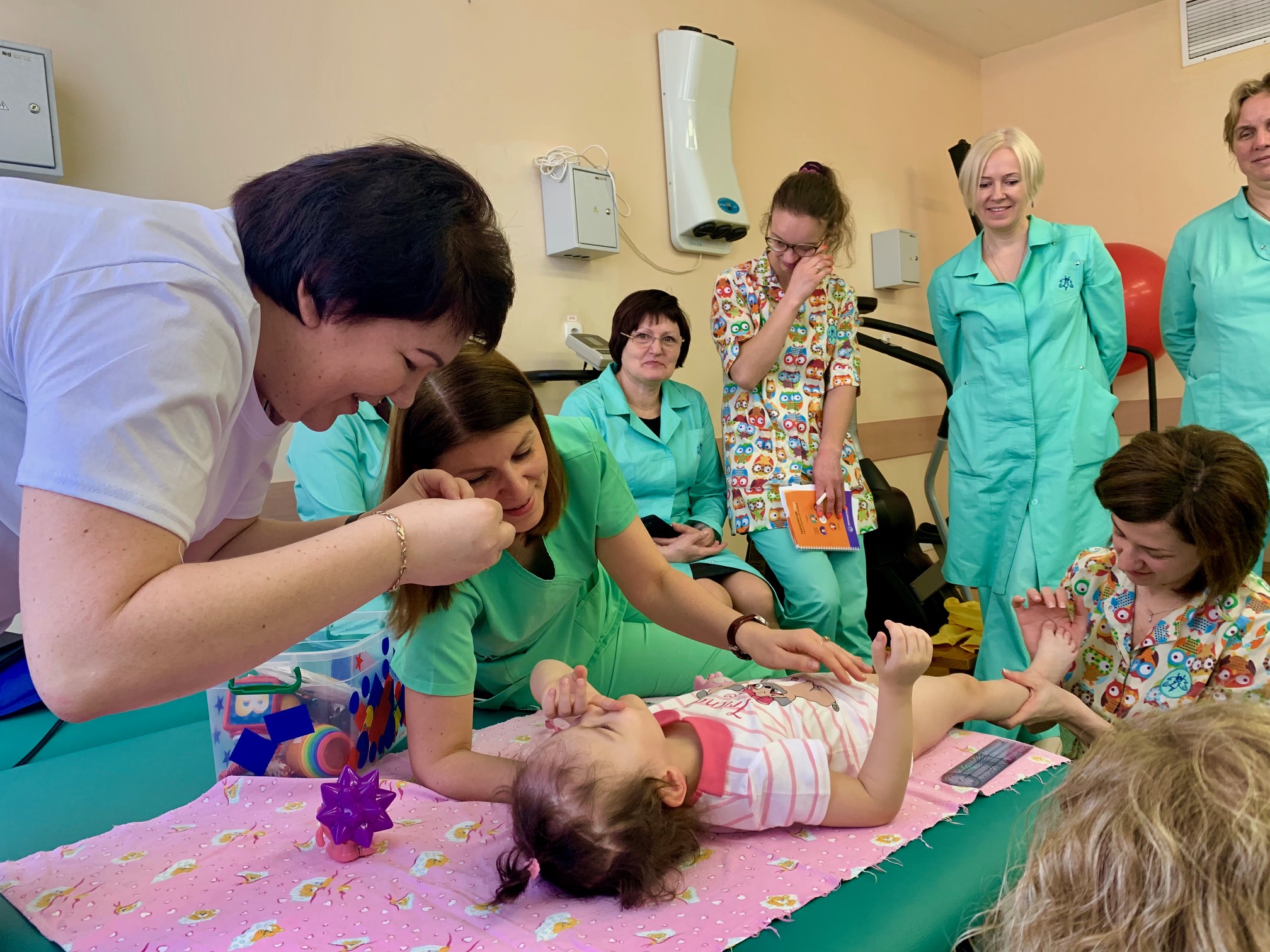 Dr. Barkocy always says to "make a difference in your corner of the world", but this trip allowed me to feel like I can make a difference in other corners too.
 
Yleana Lucero, SPT
UNM DPT Class of 2020
UNM HSSC PT Representative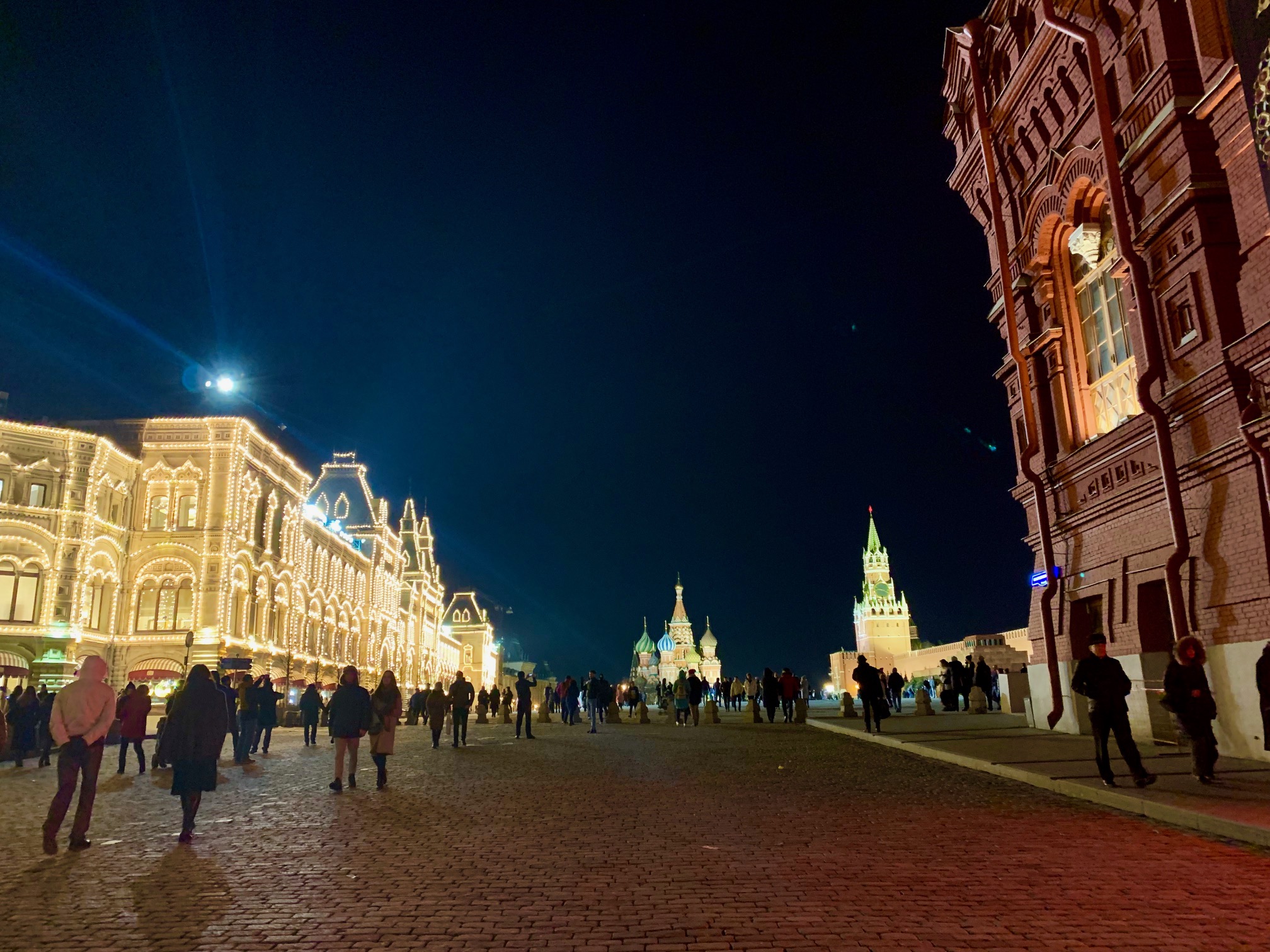 Division of Physical Therapy
Currently Viewing
Anatomy In Clay
Currently Viewing
1st year: Foundations
Currently Viewing
2nd year: Pediatrics
Currently Viewing
2nd year: Neurological Rehabilitation
Currently Viewing
3rd year: Acute Care
Currently Viewing
3rd year: Advanced Orthopaedics
Contact Us
Division of Physical Therapy
MSC09 5230
1 University of New Mexico
Albuquerque, NM 87131

Phone: 505-272-5479
Fax: 505-925-1143