Harvey Endowed Chair & Professorship
About the Endowments
The Harvey family have two generous endowments in the UNM Department of Pathology: the Harvey Chair and the Harvey Family Professor of Pathology. The two endowments honor Frederick Huckel Harvey, a neuropathologist and member of the UNM faculty in the '70s, who died early in his career from cancer.
The Harvey Family also supports "Fred Harvey" library (BMSB room 309), a vital library and seminar room where dynamic discussions occur daily in UNM Department of Pathology. Fred Harvey was the son of Stewart Harvey, Sr., and the great, great grandson of Fred Harvey the founder of the Harvey organization. Kay Harvey, Frederick H. Harvey's wife, is an artist who lives in Santa Fe and has maintained contact with the UNM Department of Pathology for many years. Kay and her daughter Noel Harvey are responsible for most of the artwork in the Fred Harvey library.
The fascinating book "Appetite for America" written by Stephen Fried (Bantam Books, 2010) describes the entrepreneurship of Mr. Fred Harvey (1835-1901) that led to an extensive system of Harvey hotels, restaurants, cafes, and jewelry stores along the route and depots of the Santa Fe Railroad from Kansas City to Los Angeles and San Francisco. This business thrived from the mid-1800's to after World War II. The management of the Fred Harvey organization stayed in the family as a private corporation led by Harvey family members for several generations.
Harvey family members became among the best known business leaders in the country and were primarily headquartered in Kansas City and Chicago. After World War II, as automobile driven culture became ascendant, the Harvey Empire faded. There are a number of reminders of the Fred Harvey phenomenon in New Mexico. The La Fonda hotel in Santa Fe was a Harvey Hotel as well as the Montezuma Hotel outside Las Vegas, now operating as a United World College. The Alvarado Harvey hotel in Albuquerque near Central Avenue and 1st Street just west of the railroad was destroyed in 1970.
Contributions Support Two Missions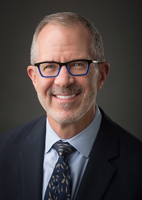 Harvey Chair of Pathology
Dr. Douglas P. Clark, Professor and Chair of Pathology, currently holds the Harvey Chair of Pathology.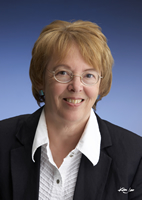 Harvey Family Professor of Pathology
Dr. Elaine Bearer, a highly recognized neuroscientist and pathologist, is currently the Harvey Family Professor of Pathology
Are you a patient looking for care?