Student Consensus Workshop
September 13, 2014 - Justin Thurgood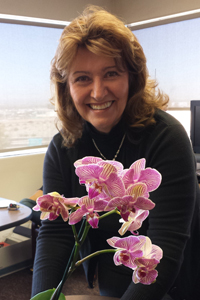 Dr. Tassy Parker leads the discussion at the Native American Student Consensus Workshop.
"We want you to know that we are still here," said Dr. Tassy Parker, the interim director for the Center for Native American Health (CNAH), "We want to know what your pressing needs are and how we can help you."
This was the opening to the Native American students at the Embassy Suites Ocotillo Room Saturday afternoon where the Institute for Indigenous Knowledge and Development (IIKD) facilitated a workshop with Native students to discuss concerns about help available for Native students at the University of New Mexico.
"What are all the things we could do to help Native students succeed?" said Dr. Parker. It was made apparent that this was the main focus of the workshop and it spearheaded the topic of conversation the entire meeting. She made it clear that there are programs in place to help native students like CNAH and IIKD but they are trying to improve and that is where the students came into play.
The meeting was held as a workshop where students worked together to come up with areas of concern regarding Native American students on campus.
"It is important to have resources available for Native Students because many non-Native professors on campus do not understand the culture and it creates a barrier" Said Nikki Tulley, a graduate student at UNM. This sentiment was shared by a majority of students there and lead way into the brainstorming portion of the workshop.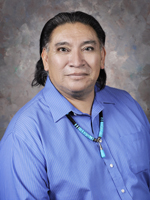 Project Coordinator Norman Cooeyate leads the brainstorming session of the workshop.
Tables worked together to come up with ideas to better the programs already in place and shared them with the rest of the meeting. At the end, all the ideas were up on the board at the front of the room and were separated into categories based on the content to be used by IIKD to start the process of improving their programs.
Contact CNAH
MSC07 4246
1001 Medical Arts Ave NE
Albuquerque, NM 87102
Physical Location:
Integrity Building
2nd Floor