United South & Eastern Tribes: Introduction to Community Health Assessment
August 5, 2014 - Micah Clark, Project Coordinator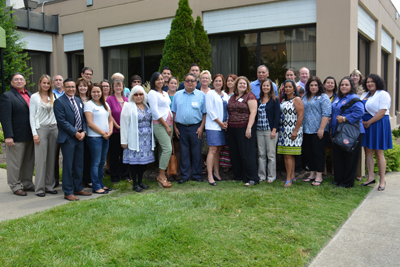 Hey ya'll! IIKD had the pleasure of visiting Nashville, Tennessee recently for a 1 and half day introductory workshop on Community Health Assessment (CHA). IIKD partnered with the United South and Eastern Tribes, Inc. (USET) Epidemiology Center to host this workshop. This workshop was a wonderful opportunity for the IIKD and Center for Native American Health (CNAH) team to learn from tribes outside of the southwest. To name a few, the South and Eastern tribes who attended were Mohegan, Cherokee, Choctaw, Mashpee Wampanoag, and Alabama-Coushatta Tribes.
The USET CHAW began with a speech by our friend and collaborator, Darlene Miller. Darlene is a Tribal Councilor from the Seneca Nation of Indians (SNI) in western New York as was an active participant and supporter of the CHA Workshops IIKD co-hosted with the Seneca Nation Health System earlier this year. With as many times as we have crossed paths, Darlene is practically an IIKD team member!
This time around, Darlene helped us set the context for the workshop, by sharing her experience and wisdom on the importance of CHA's in tribal communities. One comment that resonated from Darlene's speech was that, as tribes we have to "work together with one mind, on the same path, with the same focus". She is powerful speaker and example of a strong, humble, and wise leader, whom we admire. And we are so glad she was able to join us again in Nashville!
Following Darlene's words, we heard from our IIKD Director, Dr. Tassy Parker, who broadened our understanding of Indigenous public health. She stated that our indigenous teachings set the foundation of health and how we help one another. These teachings sustain our people and should be incorporated into CHA. Dr. Parker also provided background on what a CHA is and the opportunities it provides for communities.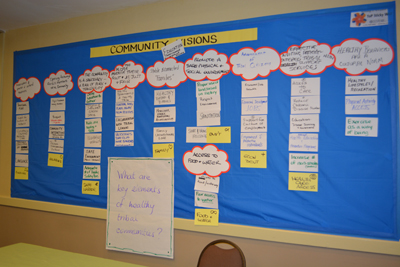 The rest of the morning was spent learning from one another by describing the elements of a healthy tribal community. This was a rich discussion that shed new perspectives on healthy communities. One particular element described, was having a just and fair tribal government. One individual shared that a "healthy government is a healthy tribe". Here at IIKD we could not agree more and this element further demonstrates the importance of tribal leadership involvement and support in completing a CHA. This was a productive conversation that allowed everyone to learn from one another and share their views of a healthy tribal community.
Our discussion was integrated into a larger facilitated group process, called a Consensus Workshop, where we were able to share our ideas about the elements of a healthy tribal nation and organize our ideas into related themes.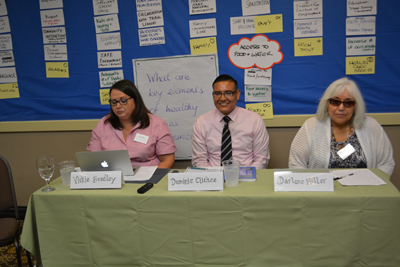 For the afternoon session, we learned from panel speakers, "indigenous best practices in CHA." This panel consisted of Tribal Councilwoman, Darlene Miller of the SNI; Deputy Health Officer, Vicki Bradley of the Eastern Band of Cherokees; and Epidemiologist, Dominic Clichee of the Tsehootsoi Medical Center in Fort Defiance, AZ on the Navajo Nation.
Each of the panelists had valuable experience with CHA and through their stories, we were reminded that our indigenous communities have long-standing beliefs and values that reinforce and support the importance public health. We also learned that tribes, regardless of size and geography, have similar challenges and opportunities and that a CHA can help us to become better-informed planners, leaders, and advocates.
In addition to learning "best practices" from our colleagues and fellow tribal communities, the USET CHAW also featured opportunities to build our knowledge of common approaches to CHA. Dr. Ellen Omohundro, Epidemiologist at USET, provided participants with a brief introduction to several ways of doing CHA including those used by city and county health departments in achieving accreditation. Some of the topics Ellen introduced were the MAPP and CHANGE models as well as the AI Toolkit. We learned from Ellen, that although there are many different ways to do CHA, there are common elements across all processes and that they can be molded to fit the needs of each tribal community.
The final day of the USET CHA Workshop was spent engaging participants in a simple planning exercise that included brainstorming and organizing action steps into an overall action plan for conducting CHA in their tribal communities. Participants were asked to think about their purpose for doing CHA and the existing resources that could be organized in their communities such as human resources, existing data and policies, possible financial resources, potential collaborations, and also the existing culturally-based activities and beliefs that might facilitate their CHA process.
The IIKD team helped inspire the next part of the planning process by sharing examples of action plans that we developed for a (fictitious) tribe called the O'Really Nation. All our team members (including our friends from CNAH) worked together to create a vignette describing the reasons why the O'Really Nation decided to conduct a CHA, the health-related issues and concerns of community members that inspired the CHA, and the action steps the O'Really Nation team would take to complete the CHA. Our action steps were organized using two commonly used models – Mobilizing for Action through Planning and Partnership (MAPP) and Community Health Assessment aNd Group Evaluation (CHANGE). At the end of the exercise, each tribal team had the beginnings of a CHA Action Plan that they could then continue to build with other members of their team in their respective communities.
Our time in Nashville was quick, however, in that short time, a lot was learned by both our team and the tribes we worked alongside and we look forward to continuing to build our collaboration with the tribes and with USET.
To view more photos from this event, click here.
Contact CNAH
MSC07 4246
1001 Medical Arts Ave NE
Albuquerque, NM 87102
Physical Location:
Integrity Building
2nd Floor