Exploring Data for Nation Building: Indigenous Data Sovereignty & Governance Workshop
May 17, 2017
On May 16 and 17, 2017 the Center for Native American Health (CNAH) hosted the "Exploring Data for Nation Building: Indigenous Data Sovereignty & Governance" workshop in Albuquerque, NM. The 1 ½-day workshop was facilitated by the Native Nations Institute for Leadership, Management, and Policy (NNI) and was held at the Embassy Suites Hotel & Conference Center. The workshop examined the role of health data as an exercise of sovereignty in Native nation governance and self-determination.
The workshop was attended by 27 participants from diverse tribal affiliations including the Eight Northern Indian Pueblo Council, All Pueblo Council of Governors, Navajo Nation and Chapter representatives, and the Mescalero Apache Nation.  Participants also represented a diversity of health and allied professions such as Community Health Representatives, tribal departments of education, regional Indigenous nonprofits, tribal health directors from the greater U.S., and IHS representatives.
The workshop dually explored data collected internally by tribes and Native communities, and information collected by external sources. The course answered broad questions such as: How can data facilitate nation building? How can tribes influence the better collection of data on their people and resources by third parties? What are the opportunities and challenges inherent in data building and data governance?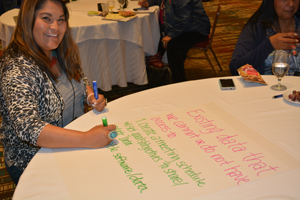 To answer these questions, the workshop drew from data initiatives in Indian Country and across international Indigenous communities and from the participants. With a focus on both scholarship and tangible data practice, participants received and shared hands-on training. This training facilitated the pragmatic use of data awareness to build a community of practice for Indigenous data sovereignty and Indigenous nations' governance of data.
Highlights of the event included group reflection on recent and ongoing events in the form of case studies. Other highlights included discussion about data sharing agreements and policy frameworks such as the United Nations Declaration on the Rights of Indigenous Peoples, Article 15.
The workshop shared many memorable quotes and stories from Indigenous communities. Among those that seemed to capture the overall spirit of the workshop were:
"When Tribal nations collect data we are telling our story in our own way. As promoters of data, we are information gatherers and information keepers. Just as our ancestors, we look at essential information to tell the stories. These new stories are being told to sustain our people and forge our future."
Participant quotes:
"The concept of speaking data fluently and intergenerationally is vital!"
"Data gathering is important and should not separate usage from where it came from. Questions should be from the indigenous frame/voice acknowledging Indigenous ways."
"Use Indigenous data to educate, grounded in our traditional realities!"
CNAH would like to thank all the participants, facilitators and staff who made time for this workshop to materialize and for its success.
About the Native Nations Institute
Located on Tohono O'odham Nation traditional homelands, the Native Nations Institute for Leadership, Management, and Policy (NNI) was founded in 2001 by the University of Arizona and the Morris K. Udall and Stewart L. Udall Foundation as a self-determination, self-governance, and development resource for Native nations. It is housed at the university's Udall Center for Studies in Public Policy. http://nni.arizona.edu/about-us
More photos of the Indigenous Data Sovereignty & Governance Workshop.
Contact CNAH
MSC07 4246
1001 Medical Arts Ave NE
Albuquerque, NM 87102
Physical Location:
Integrity Building
2nd Floor