Summer Policy Academy Student Visit to the UNM Health Sciences Center
June 12, 2017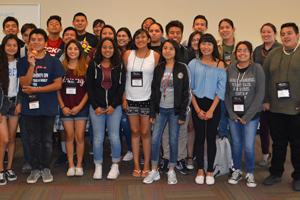 CNAH hosted student participants of the Summer Policy Academy on  Monday, June 12, 2017. SPA students range from high school juniors to seniors and they spend the month together learning about local, national, and global Indigenous issues and policy. On their visit, we heard presentations from CNAH faculty on how research and community health assessment can inform policy.
During these presentations, students reviewed bar graphs and population pyramids. Reviewing data was further brought to life as they participated in mini survey and analyzed and compared their responses to past SPA cohorts.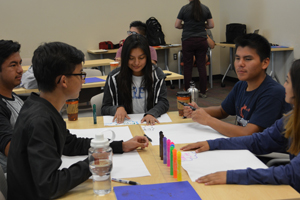 Following these presentations we learned more about one another through a 'River of Life' activity. Students depicted their life experiences by drawing a river. Student pictures showed rapids and areas where the river was peaceful and calm.
Their stories were inspiring and demonstrated their resiliency in overcoming difficult trials. In another group activity, students participated in a body mapping exercise and drew outside factors that impact an individual's health.
CNAH staff then provided a presentation on the services it offers and information about the programs they could apply for at the UNM Health Sciences Center. We enjoyed spending time with the SPA students and admire their leadership and youthful outlook.
Contact CNAH
MSC07 4246
1001 Medical Arts Ave NE
Albuquerque, NM 87102
Physical Location:
Integrity Building
2nd Floor