Santa Fe Indian School Students Visit UNM Health Sciences Center
March 30, 2017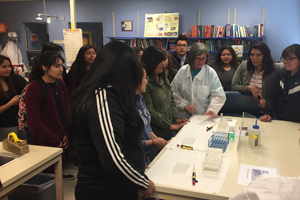 On Thursday, March 30, CNAH hosted students from the Santa Fe Indian school for a visit to the UNM Health Sciences Center (North Campus). Students were welcomed by Micah Clark, CNAH Student Development and Workshop Specialist to UNM Health Sciences Center.
The large group of students were separated in half to attend two different concurrent sessions. One group of students visited the Gait & Motion Analysis Lab (GMAL) and the other group visited the Med Lab Sciences (MLS). Both groups then reconvened to attend a Combined BA/MD Presentation and concluded with a Q&A lunch panel from current Native American HSC students.
This event was successful in our goal to continue to reach out to Native American High school students and introduce them to the diverse opportunities and resources available at UNM Health Sciences Center.
Contact CNAH
MSC07 4246
1001 Medical Arts Ave NE
Albuquerque, NM 87102
Physical Location:
Integrity Building
2nd Floor