Achievement in Medical Education Program (AMEP)
Through the Achievement in Medical Education Program (AMEP), School of Medicine educators receive professional development and achieve recognition that demonstrates, encourages, and values excellence in teaching across all elements of basic science and clinical education. Participants actively engage in learning, applying knowledge, developing skills, reflecting on the process, and creating an action plan for ongoing personal and professional growth as educators. The program includes both Foundational and Advanced pathways.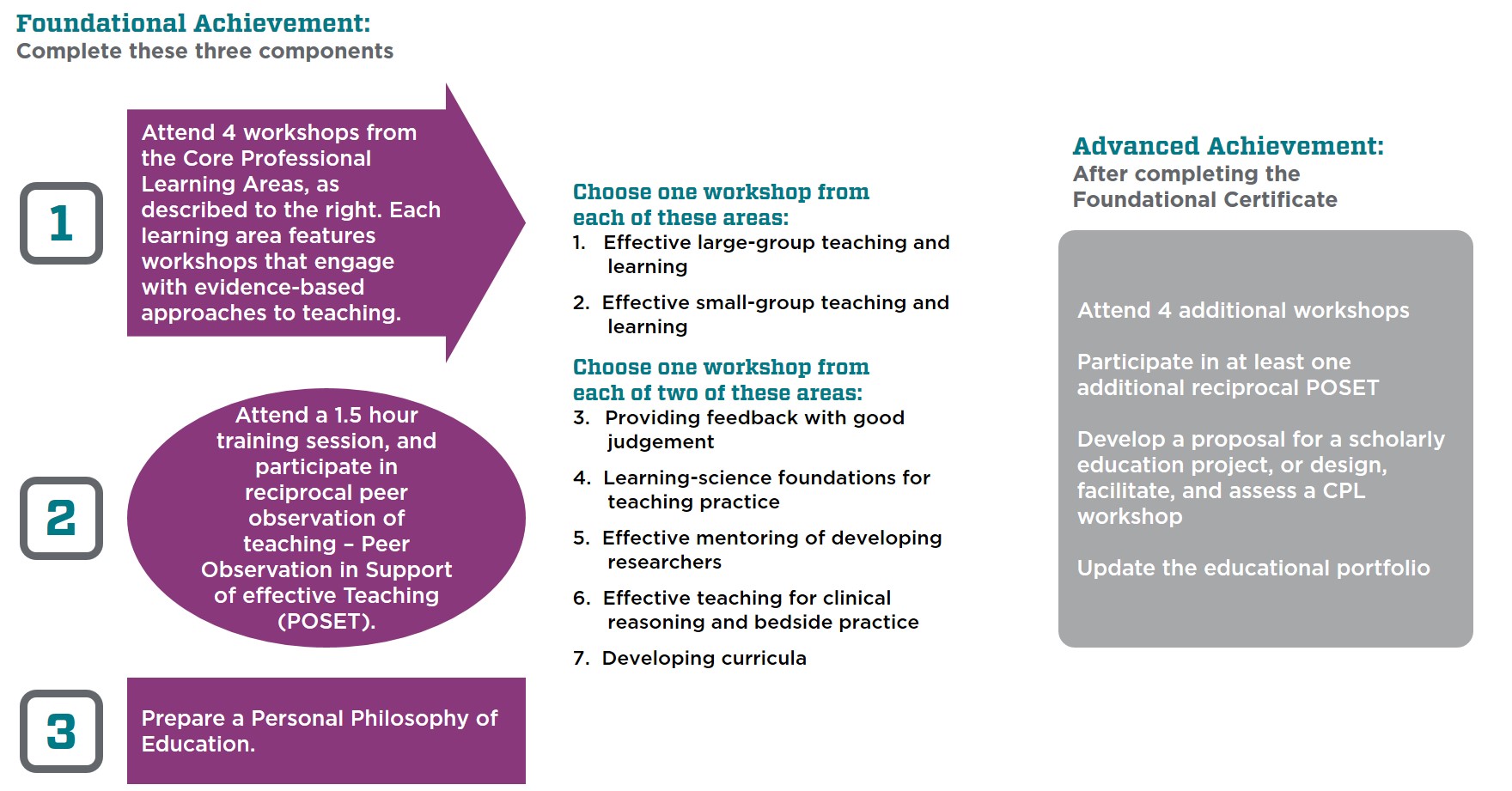 What is AMEP?

AMEP is a program of professional-development workshops, teaching observations, and reflection on teaching practice and growth as educators.  Participants achieve recognition that demonstrates pursuit of excellence through development of knowledge and skills for teaching in classroom, research, and clinical education settings.

Who can participate in AMEP?

AMEP is open to all UNM HSC faculty (basic science and clinical), residents, resident fellows, post-doctoral fellows, doctoral students, and medical students. HSC staff who are responsible for onsite and offsite teaching and training are welcome to complete the program.

Do I have to complete AMEP?

All SOM faculty (except research-track faculty) hired on or after September 1, 2015, must demonstrate a record of professional development or advanced study (e.g., education degree, UNM experience comparable to Medical Education Scholars, Certificate in University Science Teaching, Academic Science Education and Research Training) related to education.  Many faculty achieve this expectation by completing the AMEP Foundation Pathway (see more below).  To determine if you already have acquired experience that satisfies the educational development requirement, please contact the Office of Faculty Affairs & Career Development. Faculty and their departments, not CPL, are responsible for monitoring their faculty members' progress toward promotion.  CPL gladly provides, upon request, updates on a faculty member's progress toward completing AMEP as a promotion requirement.

What are the two pathways?

The Foundational Pathway establishes the fundamental knowledge and skills that can be used as a framework for competent teaching in the School of Medicine. Upon completion of the Foundational Pathway a participant will:

Demonstrate both theoretical and applied knowledge of education and its application to teaching through participation in diverse professional-development opportunities and reflection of how this new knowledge informs new educational practices
Improve instructional approaches as a consequence of performing a reciprocal peer review of an observed teaching activity
Integrate learning experiences in AMEP to other teaching and curriculum-development to demonstrate growth as an educator via reflective development of an educational philosophy

The Advanced Pathway represents exemplary effort to develop educational expertise. Upon completion of the Advanced-level program, participants will, in addition to the Foundational level, also have:

Advanced toward scholarship in medical education by dissemination of scholarly achievement or demonstrably and effectively shared evolving expertise in medical education with other educators
Further demonstrate growth as an educator in an updated educational philosophy that integrates learning experiences in AMEP to other teaching and curriculum-development

The Advanced Pathway can be pursued after completing the Foundational Pathway or after completing another educational-development experience, such as an education or medical-education degree or Medical Education Scholars. Contact CPL (hsc-cpl@salud.unm.edu) for more information on appropriate prerequisite experiences for the Advanced Pathway.

What is required for me to complete the Foundational Pathway?

There are three components to completing the Foundational Pathway of achievement in medical education:

Completion of four (4) CPL workshops (encouraged within two years of hire for those required to demonstrate Foundational achievement at time of promotion). Each workshop must be in a different core professional learning area.  The core professional learning areas and the workshops applicable to each area are listed here. You may contact CPL regarding the possibility of substituting workshops completed at another institution, through your professional organizations, or at a conference.

Participation in reciprocal peer observation of teaching (coordinated by CPL) (Peer Observation in Support of Effective Teaching - POSET)

Complete a "Personal Philosophy of Education" that includes explanation and reflection upon the incorporation of learning from workshops, peer observation, and personal teaching practice along with a plan of future actions for continuous improvement as an educator. CPL provides a rubric to guide the writing of the philosophy document if you are pursuing the Foundational Pathway independent of promotion. Otherwise, you will submit this document as part of the "Educational Portfolio" within the promotion dossier by time of promotion.

Additional information and a checklist to track your progress on this pathway can be found here.

What is required for me to complete the Advanced Pathway?

In addition to the Foundational Pathway requirements, those pursuing the Advanced Pathway complete the following:

Complete four (4) CPL workshops (or other educational activities not offered by CPL but approved for inclusion by CPL)
Participate in at least one additional reciprocal observation & feedback via the POSET process (arranged in consultation with CPL)
Develop a proposal for a scholarly project (which includes research question, literature search, methodology, assessment design) for submission to SEAC, or design, implement, and evaluate an CPL workshop. (These activities would contribute to the development of the Educational Innovation Description in the performance evaluation dossier for promotion).
Complete an updated "Educational Portfolio" that reflectively incorporates learning in the program, innovations in education, and personal teaching practice along with a plan of future actions for continuous improvement as an educator.
Let Us Know How We Can Help
Contact
Mailing Address
Office for Continuous Professional Learning
MSC09 5370  1 UNM
Albuquerque, NM 87131-0001

Phone:
505.272.3942

Fax:
505.272.8604