Preceptor Resources
Our preceptors are our educational partners in the community, caring for patients and teaching our students. Although you may not be on our campus, you are an intregal part of our team. We are here to provide you with all the resources and support you need. 
If you have specific questions please don't hesitate to reach out to us at (505)272-1184 or HSC-CON-Placements@salud.unm.edu
FERPA 
It is vital that you understand the Family Educational Rights and Privacy Act of 1974 (FERPA). We must afford certain rights to our students concerning their educational records. 
We want to make it easy for you so we created a fact sheet for your reference to ensure you stay compliant. 
Tools for Success
We provide free professional development workshops, trainings and conferences for continuing education credits. Our upcoming preceptor appreciation event will be held on Saturday, April 17, 2021. More details will be announced soon.
Telehealth Visits
With telehealth video and phone visits becoming the norm these days, we wanted to provide you with some tips for teaching students. We hope you find this information helpful!
Preceptor Pearls
Many faculty at the CON precept students in their own practices. Here are shared best practices and tips for creating an optimal learning environment. We welcome your pearls from your own personal precepting experiences. Please send them to HSC-CON-Placements@salud.unm.edu.
"Ask the student their goals for the day.  What specific patient types would help them meet their goals?  What specific area(s) are they working on right now?  Then at the end of the day review which goals they were able to achieve, how they met their goals, and which goals remain.  The goals that remain are a good place to start for the next clinical day.  That way both the student and preceptor have a clear understanding of what the student would like to accomplish on a day-to-day basis.  This also puts the responsibility for their learning on the student, helps them to identify their strengths and areas for improvement, and provides a "list" of goals that gets updated daily."
Tamara Hall, DNP, RN, CPNP-BC, Pediatric Nurse Practitioner Concentration Coordinator and Lecturer I
Time management is one of the greatest challenges for me when precepting. In order to avoid running behind, I assign the student to every other or every third patient. I also have the student stop seeing patients around 3:30 p.m. or 4:00 p.m. so he/she can finish paperwork and we can leave on time.
Kristen Ostrem-Niemcewicz, DNP, RN, CNM, FNP-BC, MSN Program Director and Assistant Professor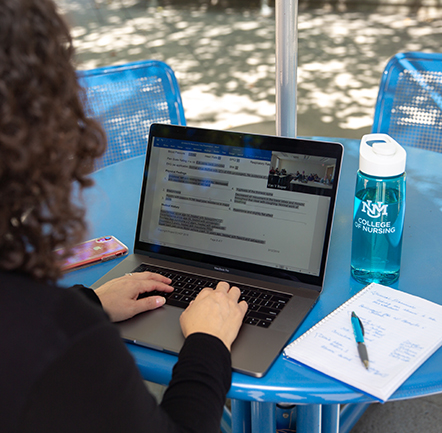 Primary Care TeleECHO Clinic
Unique in a primary care setting—The College of Nursing runs the Primary Care TeleECHO Clinic.
Bringing together a broad interprofessional team committed to reaching beyond our campus, beyond our borders, to address the needs of all New Mexicans.
---
Resources for MSN and DNP Preceptors
Typhon Tips & Tricks
Typhon is a tool that allows you to monitor your student's progress.
Learning a new system – even one that is designed to help you – can be intimidating. We prepared for that. Check out our Typhon Support web page for all the information you need to get started and learn to use Typhon. You will be an expert in no time!
Your Benefits
As a MSN or DNP preceptor we offer you a variety of benefits. Please download the form below to select your benefits.
Submit completed form along with your Data Form and current CV to Clinical Affairs HSC-CON-Placements@salud.unm.edu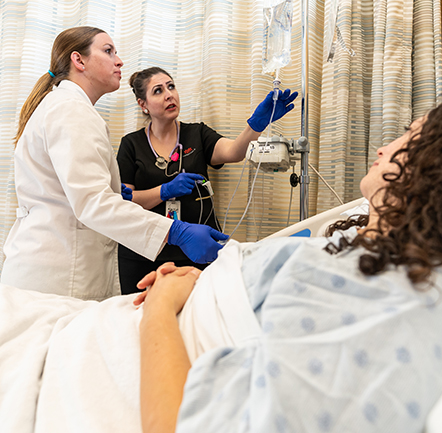 Become a Preceptor
Volunteer your time, share your knowledge and skills, and partner with our faculty to educate the next generation of nurses.
Clinical Affairs Contact
College of Nursing
Clinical Affairs
Building Number 228
Suite 356
1 University of New Mexico