Stay Connected
Founded in 1945, The University of New Mexico College of Pharmacy has remained the only pharmacy school in New Mexico, making our impact on the state significant. Approximately 57 percent of our 3,400 living alumni are right here in New Mexico and improving the health of their communities daily through education, research and practice. Skilled, compassionate alumni like you serve patients in urban and rural communities and become leaders in their communities as well as their profession.
Some of your fondest memories and most enduring relationships may come from the years spent in pharmacy school here at UNM. One of our most fulfilling privileges is to provide you with a variety of ways to stay connected to one another and your alma mater.


Alumni Events
To RSVP or to receive additional information, please contact Markella Pavlakos.
May 7th, 2021  |  3:00PM MST
Class of 2021 Virtual Convocation
Facebook Live @unmcop
YouTube Live @UNMCollegeofPharmacy

November 6th, 2021  |  5:00PM MDT
Diamond Anniversary Gala
Sheraton Albuquerque Uptown
2600 Louisiana Blvd NE
Albuquerque, NM 87110


Stay in Touch
Connect with former classmates through the UNM Alumni Association's Online Community.


Share Your Stories
We want to hear from you and share your stories with your College community. If you have news to tell, or are looking to reconnect with an old college friend or even a favorite teacher, please contact Irene Gray to help you spread the word!


Career Services
Search for open positions through UNM's Handshake portal. To set up your account, please e-mail career4u@unm.edu with the following information:
Your name
The year of your graduation
Identify yourself as a graduate of the College of Pharmacy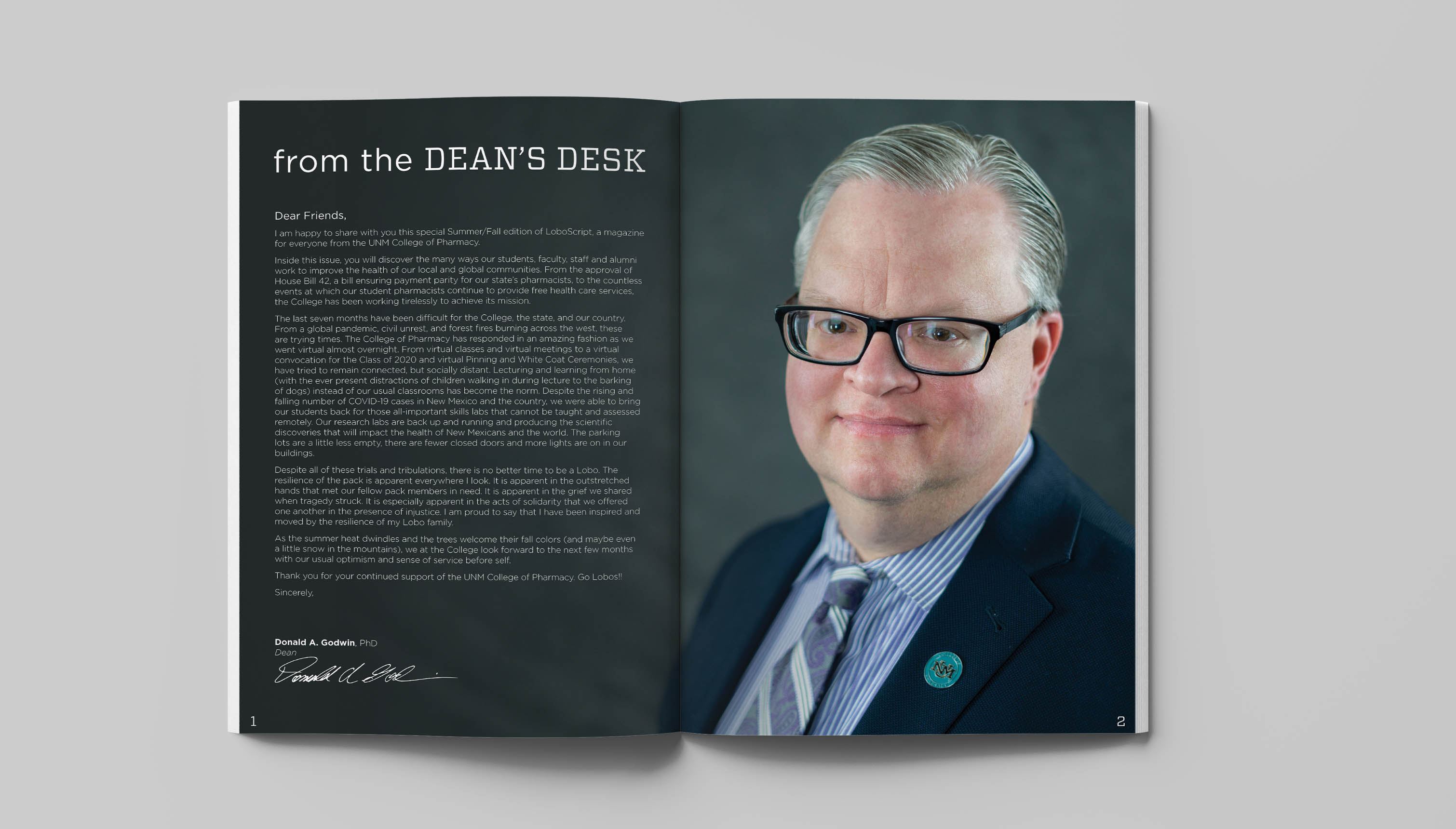 Read our latest LoboScript edition
Catch up with students, faculty, and alumni of the college in our latest edition of LoboScript, a magazine for everyone from the UNM College of Pharmacy.
Alumni Giving
Markella Pavlakos MBA
Director of Development
College of Pharmacy
ATTN: Development & Alumni Relations
MSC09 5360
1 University of New Mexico
Albuquerque, NM 87131-0001