Get in Touch
Andrea Brito
Medical Education Coordinator
ADbrito@salud.unm.edu
505-272-5428
For further information, please, write or call:
Department of Psychiatry
UNM School of Medicine
MSC09 5030
1 University of New Mexico
Albuquerque, NM 87131

Phone: 505-272-5428
Fax: (505) 272-4639
Psychiatry Residency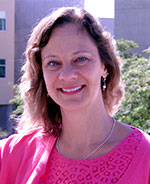 Pamela Arenella, MD
Residency Training Director
The UNM Psychiatry Residency training program in Albuquerque is structured so that all residents are encouraged to identify an area of interest in a unique aspect of psychiatry. 
Individualized Curriculum
We have designed the program to pair residents with an advisor in their chosen area, during the PGY 1 year. During each subsequent year of training, residents will spend more time exploring their field of interest and expanding their knowledge base in this area. We encourage residents to work toward producing a scholarly product by the time of graduation with ongoing guidance from mentors in their chosen field.
Potential areas of focus include:
Research
Rural Psychiatry
Child & Adolescent
Geriatrics
Addictions
Psychosomatics
Psychotherapy
Integrative Psychiatry
Neuropsychiatry
Cross Cultural Behavioral Health
Education / Leadership
Humanities
Call Frequency
PGY 1 - For interns on psychiatry at the VAMC, call is one time per week. Call on other services varies by department; most, but not all, months spent on primary care and neurology do not include call. The most frequent call is on the inpatient medicine month when call is generally once every four days.
PGY 2 - In the second year, most overnight shifts are covered by night float, and call averages one weekend 12-hour shift, every third week. During the months when there is not a night float, there is weeknight and weekend call, with a frequency of approximately once a week.
PGY 3 - In the third year, call is once every 24 days. Call in the third year involves supervising interns at the Albuquerque VAMC.
PGY 4 - There is no regularly scheduled call for PGY 4 residents in our program at present.
Mission
The primary purpose of our Psychiatry Training Program is the outstanding education and training of residents. Our program emphasizes training of providers who will become particularly adept at serving the unique demographic and socioeconomic needs of New Mexico, as well as those of the nation and individual areas of interest, including a well-rounded balance of neurobiological, epidemiological, psychological, and socio-cultural aspects of psychiatry.
Vision
Graduates of the UNM Psychiatry Residency Training Program will be prepared to fulfill and advance the role of psychiatry in an integrated healthcare system. Our resident trainees will be encouraged to provide compassionate, innovative, collaborative, knowledgeable and culturally sensitive care, and be prepared to engage fully in the evolving discipline of psychiatric medicine, both in New Mexico and beyond. With training in the most evidence-based psychopharmacology, diverse psychotherapeutic interventions, culturally sensitive clinical care and research, we envision a UNM graduate will become:
An outstanding clinical psychiatrist
A compassionate director of rural behavioral health system
A researcher doing pioneering work in area of specialized interest
A leader in patient safety initiatives
A national expert in psychotherapy
An innovator in medical education