Division of Pain Medicine
The UNM Pain Consultation and Treatment Center (PCTC) in Albuquerque is the only interdisciplinary pain clinic of its kind in New Mexico—offering the widest range of pain treatment available in the Southwest.
Our clinicians, residents and fellows treat patients from all walks of life with acute and chronic pain conditions. We train the next generation of pain medicine clinicians to promote coping strategies that help improve patients' function and quality of life.
Here, you can expand your knowledge of a variety of diseases and syndromes and use up to date technology and techniques. The PCTC has two fluoroscopy suites with C-arms, ultrasound, radiofrequency ablation and monitoring equipment that meets the standards of the American Society of Anesthesiologists (ASA), American Board of Pain Medicine, American Board of Anesthesiology (ABA), and American Society of Interventional Pain Physicians.
Faculty members encourage active involvement of patients in their treatment and tailor therapies to individual needs. Therapies may include a combination of various pain medications, adjunctive medications, interventional therapies, psychological support and physical therapy in addition to interventional treatment modality
Pain Medicine Fellowship
A 12-month Pain Medicine Fellowship is available through the Department of Anesthesiology and Critical Care.
As a UNM Pain Medicine fellow, you'll treat a variety of complex medical conditions and manage the care of long term and new patients under faculty supervision. The 12-month fellowship also offers:
Advanced interventional procedures
External rotations in neurology, palliative care, acute pain service, and Physical Medicine and Rehab (PMR)
Inpatient chronic pain service with admitting privileges at UNM Hospital
Operating room experience
Participation in department sponsored basic science research
Patient access to continuous mental health services within PCTC
Preparation for board certification 
Scholarly projects in pain medicine
Training in all aspects of pain medicine, including interventional, medical and multimodal approaches
Transition to independent practice 
Arthritis/Joint Pain
Back pain with/without radicular pain
Cancer-related pain
Complex regional pain syndrome (I and II)
Fibromyalgia 
Herniated Intervertebral discs 
Migraines
Myofascial pain
Neuralgia
Neuropathy
Radiculopathy
Sacroiliac joint dysfunction
Sciatica
Shoulder pain
Spasticity
Spinal stenosis
Celiac plexus block
Cervical selective nerve root block (diagnostic only)
Dorsal root ganglion (DRG) simulation (trial and implant)
Epidural blood patch
Ganglion impar block
Hip injection
Intercostal nerve blocks
Intrathecal therapy for cancer related pain (trial and pump implant)
Kyphoplasty
Lumbar and cervical discogram (diagnostic only)
Lumbar and cervical epidural steroid injections
Lumbar and cervical facet blocks
Lumbar and cervical medial branch nerve radiofrequency ablation
Lumbar selective nerve root block
Lumbar sympathetic block
Peripheral nerve stimulation (trial and implant)
Sacroiliac joint injection
Sacroiliac joint radiofrequency ablation
Spinal cord stimulation (trial and implant)
Stellate ganglion block
Superior hypogastric block
Trigger point injections
Residents and fellows in the pain medicine program will be part of a pain management team that may include:
Anesthesiologists
Chiropractors
Clinician pharmacists
Family practitioners
Internists
Neurologists
Nurses with specialized training in caring for pain patients
Physical therapists
Psychiatrists
Psychologists and counselors
Surgeons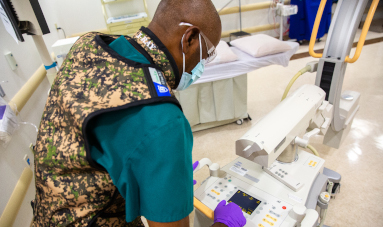 Continue Your Education
Become a pain medicine doctor at UNM.
Pain Medicine Contact 
Program Director 
Eugene Koshkin, MD 
Department of Anesthesiology & Critical Care Medicine 
UNM Hospital 
2211 Lomas Blvd NE
Are you a patient looking for care?