Education
Our top priority is the creation of a supportive environment of inquiry and academic pursuit with a culture of respect, accountability, teamwork and wellness. The faculty and staff of the UNM Department of Dermatology are fully committed to ensuring that trainees acquire the knowledge and skills of our discipline, as well as professional and personal growth, while adhering to the highest standards of quality and safety in the delivery of excellent patient care services.
The overarching educational goal of the program is to train excellent clinical dermatologists, confident in all aspects of our field by providing a wide range of clinical experiences, including:
General dermatology
Pediatric dermatology
Dermatologic surgery
Cosmetic procedures
Dermatopathology
Teledermatology
Specialty clinics, including Cutaneous Oncology Clinic, Vascular Anomalies Clinic and Transplant Clinics
Our residents gain experience in caring for patients with complex pediatric and adult dermatologic diseases and benign and malignant skin tumors. Our growing teledermatology service also allows the Department to provide much needed dermatologic care to remote areas of New Mexico. The Department also leads clinical education and research in dermatology throughout the region.
The UNM Department of Dermatology is committed to providing the highest quality care for patients with skin, hair and nail diseases through our clinic, and providing excellence in education for our community and trainees.
Residents participate in clinical rotations, case conferences, didactic lecture series and other activities with a strong focus on mastering core competencies with progressively increasing levels of responsibility and clinical decision-making. Careful attention is given to professional development, personal growth and physician well-being.
Ready for an adventure? Learn more about Dermatology education at UNM.
Join one of the best clinical dermatology training programs in the country—as one of our select residents. You will have access to multidisciplinary academic medical expertise as you treat a diverse population unlike any other in the U.S.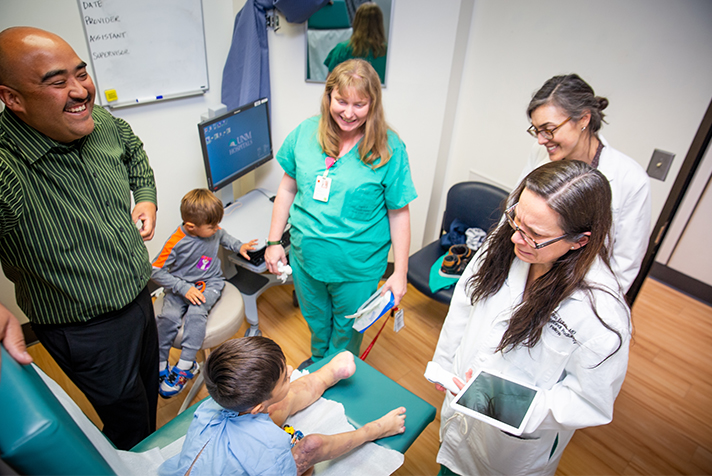 Department of Dermatology Medical Education Program
Medical Education Program Coordinator
Kathy Freise
Department of Dermatology
1 University of New Mexico
MSC07 4240
Albuquerque, NM 87131-0001
505-272-6000
1021 Medical Arts Ave NE
Albuquerque, NM 87131
505-272-6003 fax