Nephrology
Treating and Researching Kidney Disease 
Since its establishment in 1980, the University of New Mexico Nephrology Fellowship Program has trained over 100 nephrologists practicing across the country in both clinical and academic settings. Many of our fellows have gone on to become core members of the faculty.  
UNM fellows learn necessary skills and get clinical experience in an intensive yet supportive environment to become highly trained nephrologists, whether they choose to pursue a career in private practice, academia, or basic research. 
Clinical Services

 
UNM Hospital (UNMH) is an active tertiary referral center in the state of New Mexico. We serve patients throughout New Mexico in UNM Hospitals Outpatient Services and UNM Medical Group Clinics. 
Our fellows experience all aspects of inpatient and outpatient nephrology at UNMH and the Albuquerque VA Medical Center.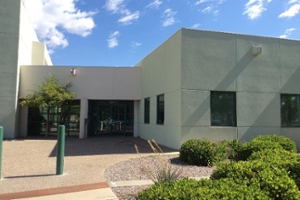 Chief of Nephrology
Christos Argyropoulos, MD
Department of Internal Medicine
505-272-0407 
Contact Us
Division of Nephrology
Department of Internal Medicine 
UNM School of Medicine
MSC04 2785 1 University of New Mexico