Pediatric Residency
As a resident at UNM, you will experience a rigorous training program in a supportive environment. Whether your goal is primary care or subspecialty training, community or academic practice, our program will afford you a robust pediatric foundation, setting you on the path to a successful career.
Excellent Training, Resident-Focused Program
UNM's pediatric residency program is flexible and innovative. Our individualized track system allows flexibility during your training years to best prepare you for your own career goals. Our tracks include:
Ambulatory
Hospitalist
Fellowship
Global and Rural Health
We emphasize resident education throughout our curriculum, in additional to developing physician educators. Our residents are also active in community advocacy and scholarly activities.
Our faculty are leading clinicians, teachers and mentors in a variety of specialties. Choose a mentor to be your professional guide as you need advice and work towards your career goals.
As a resident, your voice will be heard. You can share ideas and concerns in monthly housestaff meetings and join groups such as the Program Evaluation Committee. Our Intern Selection Committee is comprised primarily of current residents - you'll play a major role in selecting your peers from around the country.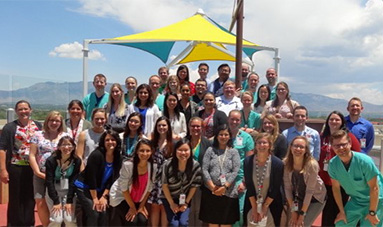 Apply for Residency
Our categorical program accepts 16 residents each year. We also have 1-2 Child Neurology residents per year for the first 2 years of their training.
Pediatric Residency Contacts
Department of Pediatrics
UNM Children's Hospital
1 University of New Mexico
MSC10 5590
Albuquerque, NM 87131