Center for Native Environmental Health Equity Research

The Environmental Protection Agency has documented more than 10,400 abandoned uranium mines across 15 states, largely in the Southwest – and 540 of those are on the Navajo reservation.
The UNM Community Environmental Health Program (CEHP) and the Albuquerque-based Southwest Research and Information Center have worked with Navajo Nation communities for more than 15 years to compile information and educate the community on the health risks connected to the mining. CEHP also conducts research with other universities on the effects of uranium mining.
The mines, which were in operation from 1948 to 1986, extracted approximately 30 million tons of uranium ore, permanently scarring the land. Scientists have confirmed that long-term exposure to uranium increases the risk of lung cancer, kidney disease, and bone cancer – and some homes were built with materials containing uranium ore.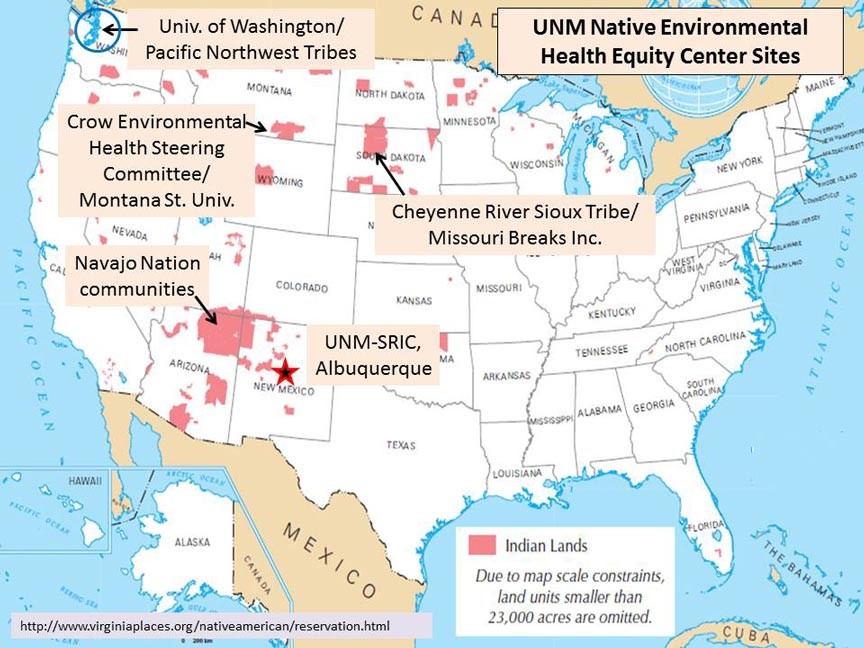 Joseph Hoover, PhD, of the CEHP, created a map to depict areas of Native American lands where water is contaminated from uranium mining, as well as the educational institutions conducting research. The areas are: 
Navajo Nation
Crow Nation
Cheyenne River Sioux Tribe
Pacific Northwest tribes