CNAH Honors 28 Native Health Sciences Grads at Annual Ceremony
May 11, 2016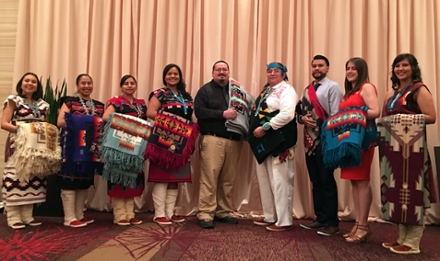 The 2016 Health Sciences Graduation Recognition Ceremony on Wednesday marked the 11th year that CNAH has hosted the event. The annual ceremony recognizes Native American students graduating from the University of New Mexico Health Sciences Center and their families.
L-R: Danielle Tsingine Chang, Aprilshandiin Curley-Sherer, Reanna Draper, Candace Watts, Benjamin Dodge, Norman Cooeyate, Mason Silversmith, Jordan Murphy, & Ariel Hautzinger
In all, 28 Native American students from the spring 2016 graduating class were recognized for receiving undergraduate and doctoral degrees from the School of Medicine, College of Nursing, College of Pharmacy, and the Biomedical Research Education Program.
The ceremony was MC'd by two Native American medical students – Julian Benavidez (Isleta) and Jaron Kee (Navajo). Students from the Native American Community Academy's Zuni language class provided an opening blessing in Shiwi (Zuni) accompanied by their instructor, UNM Alumna Kellen Shelendewa. CNAH Director, Dr. Tassy Parker, welcomed graduates, families, and honored guests to the event and acknowledged the support of elected and University leaders in attendance.
Three speakers delivered the Alumni, Graduate, and Keynote Address for the ceremony. Speakers included UNM College of Nursing Alumna and Founder of the Changing Woman Initiative Nicolle Gonzales (Navajo), Graduate from Nursing Reanna Draper (Navajo), and State Representative Georgene Louis (Acoma). The speakers challenged graduates to become involved with their communities – to get to know their (elected) leaders, be active in cultural and community activities, to set an example for youth, and to share their stories with others.
Dr. Parker presented 10 graduates with a certificate of recognition and a Pendleton shawl/robe. Dr. Robert Sapien contributed in recognizing 4 graduates from the School of Medicine. The ceremony was all the more memorable, thanks to an honor song provided by Navajo recording artist, Andrew Thomas. NACA students provided the closing blessing in Zuni (Shiwi) and the ceremony came to a close with individual and family portraits of graduating students.
The staff and faculty of the Center for Native American Health would like to thank all of the graduates and guests for joining us at the 2016 Health Sciences Graduation Recognition Ceremony. And to the families, thank you for allowing us to be a small part of your loved one's journey. Congratulations graduates!
View more photos of the 2016 Health Sciences Graduation Recognition Ceremony.
Undergraduate Studies
Norman Cooeyate (Pueblo of Zuni) – Bachelor of Arts in Native American Studies
Seve Tom – Bachelor of Science in Medical Laboratory Sciences
Vernon Watson – Bachelor of Science in Medical Laboratory Sciences
Reanna Draper (Navajo Nation) – Bachelor of Science in Nursing
Ariel Hautzinger (Navajo Nation) – Bachelor of Science in Nursing
Nicole Pino (Navajo Nation) – Bachelor of Science in Nursing
Emma Cohnheim – Bachelor of Science in Nursing
Francine Dee – Bachelor of Science in Nursing
Vivian Frazier – Bachelor of Science in Nursing
Letisha Lee – Bachelor of Science in Nursing
Sylvia Yazzie – Bachelor of Science in Nursing
Mason Silversmith (Navajo Nation) – Bachelor of Science in Radiologic Sciences
Graduate Studies
LaPrincess Tso – Master of Science in Nursing
Aprilshandiin Curley-Sherer (Navajo Nation) – Doctor of Medicine
Danielle Tsingine Chang (Navajo Nation & Hopi) – Doctor of Medicine
Candace Watts (Navajo Nation) – Doctor of Medicine
Tommie Begay – Doctor of Medicine
Elizabeth Garchar – Doctor of Medicine
Zachary Gillooly – Doctor of Medicine
Zane Maroney – Doctor of Medicine
Benjamin Dodge (Navajo Nation) – Doctor of Medicine
Jordan Murphy (Pueblo of Ohkay Owingeh) – Doctor of Pharmacy
Falisha Begay – Doctor of Pharmacy
Lia Jasperse – Doctor of Pharmacy
Courtney Kessler – Doctor of Pharmacy
Matthew Garrett – Doctor of Physical Therapy
Michael Smith – Doctor of Physical Therapy
Sophia Malary – Doctor of Medicine (Resident)
Contact CNAH
MSC07 4246
1001 Medical Arts Ave NE
Albuquerque, NM 87102
Physical Location:
Integrity Building
2nd Floor