SPA Students Visit the UNM Health Sciences Center (HSC)
June 14, 2016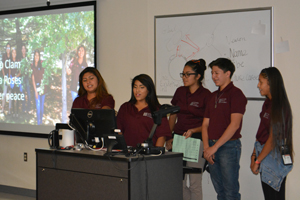 On June 14th, 2016, Center for Native American Health (CNAH) was honored to host a day visit to the HSC campus for students of the Summer Policy Academy (SPA). SPA is made up of NM high school juniors and rising seniors and rising college freshmen who represent tribes from across NM.
Students are exposed to public policy, leadership, and community issues through community-based learning experiences, conferences, cultural exchanges, and community service. In turn, students are able to deliver their experiences back to their communities and even become unofficial advisors.
During the course of their day visit, students listened to a presentation by Norman Cooeyate (CNAH Supervisor, Cultural Engagement) in regards to Community Health Profiles (CHP), how to build a CHP, who should be involved, and its importance to a community. Following this, students heard from Dr. Tassy Parker (CNAH Director) on the self-rated health of NM youth and they got to rate their own health and compare their results to past SPA cohorts.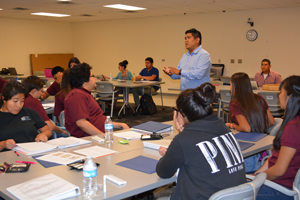 Another event the students enjoyed was hearing about and participating in a Photovoice activity. Phototvoice is a process where community members can identify and address local assets and needs through photographs and their accompanying stories. After a presentation by Micah Clark (CNAH Supervisor, Native Health Professions Workforce Development) on Photovoice, students participated in their own Photovoice activity.
Students took photos around the HSC campus in response to the question, "What are things on campus that influence physical activity?" After students returned, they discussed and shared their findings with the class. Students remarked that this newfound tool will greatly benefit their individual community service projects.
On behalf of CNAH, we would like to thank SPA for including us in their program!
Contact CNAH
MSC07 4246
1001 Medical Arts Ave NE
Albuquerque, NM 87102
Physical Location:
Integrity Building
2nd Floor