2016 AAIP PAW Hosted at UNM HSC
April 29, 2016 - Kyle Smith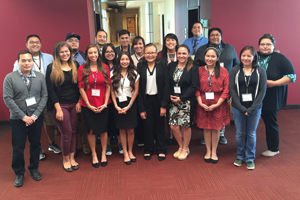 On April 27th – 30th, 2016, the University of New Mexico Health Sciences Center (UNM HSC) hosted this year's Pre-Admission Workshop (PAW) in collaboration with the Association of American Indian Physicians (AAIP) and partnering universities from the Four Corners Alliance. This workshop had 23 American Indian students in attendance, all with an interest in pursuing a professional degree in the health sciences.
Among the organizations at UNM HSC who helped coordinate the planning and implementation of the workshop were the Center for Native American Health (CNAH), Office for Diversity, and the School of Medicine Office of Admissions.
Important partners from the Four Corners Alliance include the University of Arizona-Tucson & Phoenix, University of Colorado, and University of Utah. The workshop's aim was to address the challenges students face in the application stages of graduate school for the health professions, particularly in medicine.
Among the subjects and activities covered were selecting a professional school; preparing for entrance exams (MCAT & GRE); crafting a winning personal statement; understanding the American Medical College Application Service (AMCAS) application process; applying for financial aid and scholarship resources; participating in mock interviews, and hearing from a panel of American Indian health professionals on their academic and professional journeys.
PAW allowed students to gain valuable knowledge and ask important questions. PAW student, Tee Benally, shared her insights on the workshop and stated "the most valuable thing I walked away with was the professional relationships I developed with the other students and the PAW staff. The outline and tools provided on what to do before and after the completion of my undergrad were very helpful."
From the UNM planning team, Micah Clark stated that the most rewarding part of PAW was the closing talking circle at the Cross Cultural Medicine Workshop: "I got to hear more about the students and where they come from and it was heartwarming to hear them encourage one another and to hear the current AI students offer their mentorship."
Lastly, PAW staff/spectator, Kyle Smith, said, "I was very impressed with the organization of the workshop and was glad to see more American Indian students pursuing a career in the health professions." With one semester left in his undergrad, this gave him a better understanding of the processes that go into applying to graduate schools.
The 2016 AAIP PAW was a great success and on behalf of CNAH, we would like to thank all the students who participated as well as AAIP, the Four Corners Alliance, our presenters and panelists, and all the wonderful volunteers who made this workshop a great one.
Contact CNAH
MSC07 4246
1001 Medical Arts Ave NE
Albuquerque, NM 87102
Physical Location:
Integrity Building
2nd Floor