CNAH's Fall Outreach with the Community and UNM.
October 10, 2019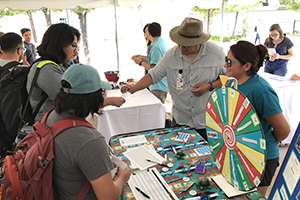 During the beginning of every Fall semester, CNAH tables at UNM's Welcome Back Days and surrounding community fairs.  This school year, CNAH attended seven tabling events! It was nice to meet new students and make connections before the semester got busy.
The CNAH team has enjoyed tabling in tribal communities like Tesuque Pueblo, Navajo Technical University, and Southwestern Indian Polytechnic Institute.
It's good to get off campus and connect with tribal leaders and partners in the community. Organizers/hosts have been super hospitable and it was great to see and hear of all the good things happening in Indian Country.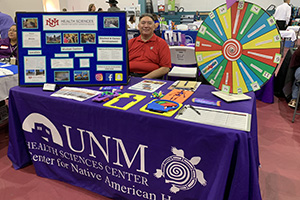 These events allow CNAH to network and engage with students and community members and showcase the Health Sciences programs; while also informing students about all the resources CNAH has available. CNAH appreciates everyone they got to engage with and special thank you to the organizers behind these resources fairs.
Contact CNAH
MSC07 4246
1001 Medical Arts Ave NE
Albuquerque, NM 87102
Physical Location:
Integrity Building
2nd Floor