CNAH Hosts 2019 Summer Policy Academy Students
June 11, 2019
On June 11, 2019, CNAH hosted and organized a day visit for the Summer Policy Academy (SPA) students. The SPA is organized by the Santa Fe Indian School (SFIS) Leadership Institute and is a program that trains High School juniors and seniors to become advisors of policy in their communities.

CNAH hosts the SPA students for a one-day visit to discover available health science degree programs at UNM HSC, services offered by CNAH, and learn about how policy and decisions can be informed by research and community health assessments. Each cohort of SPA students visits annually. This year's cohort included 17 students from across New Mexico.
The student participated in the "River of Life" activity where students map out their life in reflection of a river. This is a chance to look back on life experience, thus far, and a chance to express future goals/milestones. The River of Life activity also gives an opportunity for the students to bond over their drawings/posters and learn about their peers.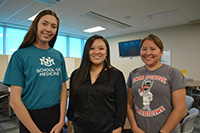 SPA students also heard from a panel of current American Indian Health Sciences Center students about their educational journeys and lessons learned along the way. The students of SPA got to meet and interact with former & current UNM students from the nursing program, occupational therapist program and the School of Medicine.
Students finished out the day with a world café activity. A discussion exercise that allows the students to discuss their service projects, which is part of the SPA program, and how they can integrate SPA values and health into their projects or how health is related to the SPA values.
The CNAH faculty and staff would like to thank the SFIS Leadership Institute for the opportunity to host the Summer Policy Academy students. We want to wish the students luck with the remainder of the program.
If you would like more information regarding the Summer Policy Academy, visit their website at http://www.lisfis.org/spa1.
Contact CNAH
MSC07 4246
1001 Medical Arts Ave NE
Albuquerque, NM 87102
Physical Location:
Integrity Building
2nd Floor