CNAH Hosts its Annual Welcome Back Celebration for American Indian Health students
September 11, 2019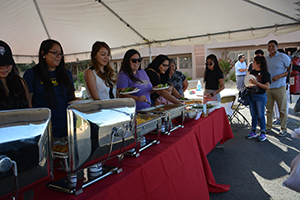 CNAH's Welcome Back Celebration was a fun blast from the past! This year's annual event was 90's themed and invited UNM American Indian health students, staff, faculty, and residents to celebrate the new school year.
The event included a 90's themed self-guided tour. The tour allowed attendees to see the student resources available at CNAH. First, guests toured the staff hallway and were introduced to the CNAH team by guessing the teams' favorite things from the 90's. After that, guests were shown to the breakroom and played Plinko to win CNAH SWAG.
Further, into the tour, guests visited the Mac computer lab and study rooms. These rooms held games like Sorry, Clue, Jenga, and retro video games. The tour concluded in the library and wellness room where there were health trivia questions and coloring activities.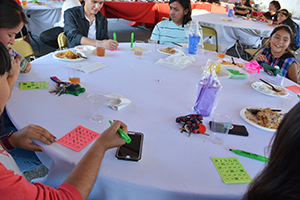 Dinner was provided outside and guests enjoyed a delicious BBQ spread. After dinner, students played a few rounds of Bingo and participated in raffle giveaways. The CNAH team enjoyed reminiscing the 90's with everyone that came. Thank you all for attending and we hope to see you throughout the semester.
Contact CNAH
MSC07 4246
1001 Medical Arts Ave NE
Albuquerque, NM 87102
Physical Location:
Integrity Building
2nd Floor