In Memoriam of Patricia Bradley
August 22, 2019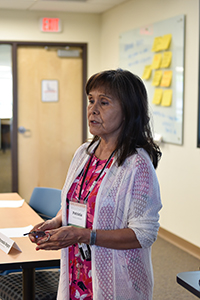 The faculty, staff, and students of the Center for Native American Health were deeply saddened to lose one of its family members, Patricia Bradley, MIS. Pat (Diné) was the Native and Distance Services Librarian at the UNM Health Sciences Library and Informatics Center (HSLIC) and CNAH's Community Education Advisor.
Pat's work was instrumental in the success of the Native Health Database, a research database devoted exclusively to health and medical issues of American Indian and Alaska Native and Canadian First Nations populations.
The NHD contains over 9,000 records of health related materials and resource documents starting as early as 1692 to the present day. It is the only research database that indexes information by tribe. Our team at CNAH frequently called on Pat to help us with our literature searches and we never hesitated to send students her way because we knew they would get her full attention and unparalleled expertise.
Even before she joined the CNAH team, Pat was one of CNAH's strongest advocates. She believed wholeheartedly in our mission to build a Native health workforce and was deeply involved with our student programming. The HSLIC was a popular stop on our student tours of campus where Pat would introduce high school and tribal college students to the NHD. She was a frequent guest at CNAH events including our annual graduation recognition ceremony and was always willing to lend a helping hand.
As CNAH's Community Education Advisor, Pat developed an educational intervention to introduce First Nations Community HealthSource patients and AIAN community members to online health information and resources. She successfully launched the program in 2017 at the All Nations Wellness and Healing Center to an audience that included (mostly) unsheltered AIAN relatives. With her calm and patient demeanor, she was perfectly suited for teaching in community-based settings giving hands-on and one-to-one instruction using iPads and public computers.
One of Pat's last projects at CNAH was to research Native American Health Professions "Firsts." Over the course of a few weeks, Pat organized a directory recognizing the first Native American physician, nurse, pharmacist, and dentist. She had hoped to do more primary research and had scheduled several interviews with family members in hopes of developing something to honor Native health professional "firsts".
It was this tireless energy and excitement for learning that will remind us of our dear friend, Pat – who was always the first to volunteer, the first to arrive, and the first to help when we needed it. On behalf of our entire team at CNAH, we extend our sincerest condolences to Pat's daughter, Natalie, and her family, friends, and colleagues at HSLIC.
Contact CNAH
MSC07 4246
1001 Medical Arts Ave NE
Albuquerque, NM 87102
Physical Location:
Integrity Building
2nd Floor