CNAH Hosts Student Networking Reception at the Native-CHART Symposium.
November 6, 2019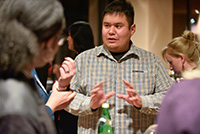 The Center for Native American Health (CNAH) knows how important professional connections are in the workforce.  At CNAH we host networking events that allow UNM Health Sciences students to mingle and connect with health professionals and tribal leaders. On Tuesday, October 29th CNAH hosted a student networking reception as part of our Native-CHART Symposium.
The reception started at 5:30pm with students, health professionals, and tribal leaders engaging in icebreakers to help ease into the conversation. A few UNM alumni were able to attend and offer mentorship with current students pursuing similar health fields.
CNAH was happy to see students seizing this opportunity to expand their professional network and taking initiative in introducing themselves to the local tribal leaders. CNAH's Student & Workforce Development Specialist, Micah Clark, said the reception was a great opportunity for health professionals and tribal leaders to "meet their future workforce."
Contact CNAH
MSC07 4246
1001 Medical Arts Ave NE
Albuquerque, NM 87102
Physical Location:
Integrity Building
2nd Floor