We Are Leaders in Pharmacy
The UNM College of Pharmacy is the premier destination for exceptional pharmacy education, research, and patient care programs. Building on a 75-year legacy of innovation, the College prides itself in preparing the next generation of pharmacy leaders.
Signature Programs
At the UNM College of Pharmacy, something great awaits you in any of our program fields. Start your journey by applying today!
6:1

Faculty to PharmD Student Ratio

$

119k

Median Salary for a Pharmacist

240k+

In Scholarships Awarded in 2018/2019

28th

In Total Research Funding

$

12.2M+

Research Funding Awarded in 2019
Unrivaled Excellence
Pharmacy is the Future
For 75 years, the UNM College of Pharmacy has cultivated pharmacists and pharmaceutical scientists who are inspired by their communities and driven by the spirit of discovery. Will you join this Pharmacy movement beating in the heart of New Mexico?
Apply to be a Pharmacist
Our Diamond Campaign Begins
Celebrating 75 Years
On November 16th, 2019, we launched our yearlong 75th anniversary Diamond Campaign. It has been a wonderful 75 years and we hope you will join us in celebrating this milestone. We are honored to continue supporting our students, our faculty, our beautiful state, and the profession of pharmacy.
Contribute to Our Campaign
White Coat Promo
Do you remember your first white coat? We are eager to give the PharmD Class of 2024 theirs next week during our Virtual White Coat Ceremony! Be sure to tune in Thursday, August 6th, 2020.
2020 Virtual Convocation Highlights
A convocation like no other
A powerful message from this year's invocation given by Marcus Garcia (PharmD '20). Congratulations to the Class of 2020!
Full Ceremony Recording
Multiple Mini Interviews
Interviewing with UNM
Interview season is here! Are you interviewing with us soon and would like to know what to expect? Check out this video explaining our Multiple Mini Interview (MMI) process at the University of New Mexico College of Pharmacy.
Health Screenings - Lady Lobos
This Saturday UNM Pharmacy students will be providing FREE health screenings at the Lobo Women's Basketball game as part of the American Heart Association's Go Red for Women campaign ❤️ Cheer on the Lobos and be a champion for your heart! You can visit our Pharmacy students on the north concourse of The Pit on gameday 🐺🐾
Find Patient Care
Call Your Legislator!
Our students and faculty are calling their local government representatives! House Bill 42, a bill affecting reimbursements for advanced practice pharmacists, is heading to the house of representatives floor for a vote. This afternoon they held a phone banking session during their break to inspire some "yes" votes for the bill. Don't forget to make your call!
Learn More About HB-42
Support House Bill 42
New Mexico's pharmacists are pillars for their community. Supporting House Bill 42 allows them to continue the great work they do every day while enabling them to strive to new heights of patient care. House Bill 42 has nine days to make it through the senate floor; please continue calling your local representatives and let them know that passing the bill is a victory for underserved communities as well as the health care teams that serve them.
Learn More About HB-42
Currently Viewing
Pharmacy is the Future
Currently Viewing
Our Diamond Campaign Begins
Currently Viewing
White Coat Promo
Currently Viewing
2020 Virtual Convocation Highlights
Currently Viewing
Multiple Mini Interviews
Currently Viewing
Health Screenings - Lady Lobos
Currently Viewing
Call Your Legislator!
Currently Viewing
Support House Bill 42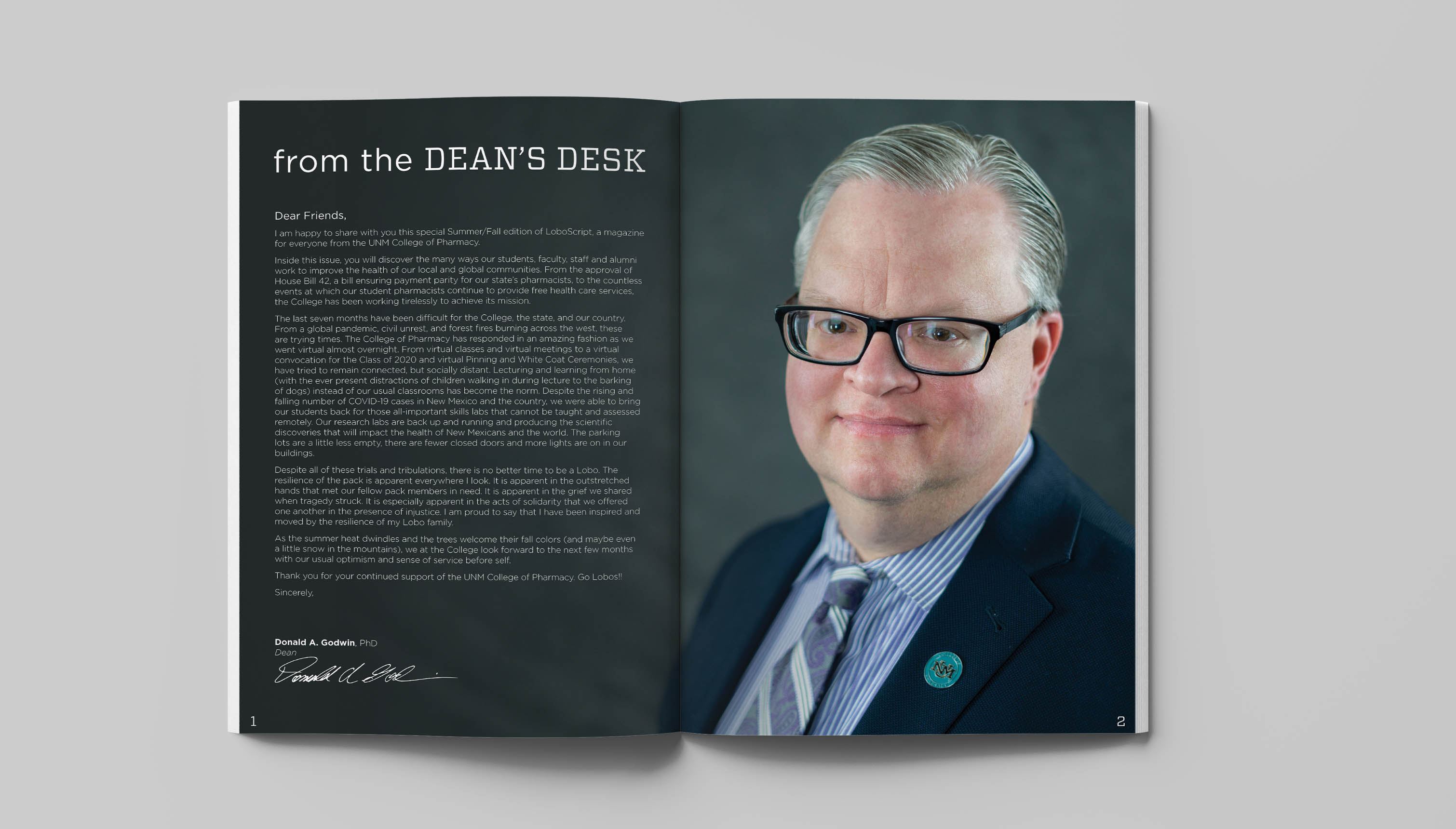 Read our latest LoboScript edition
Catch up with students, faculty, and alumni of the college in our latest edition of LoboScript, a magazine for everyone from the UNM College of Pharmacy.
Are you a patient looking for care?