Our History
 A New Way to Educate Medical Students 
In the late 1950s a group of local physicians founded the School of Medicine with the goal of creating a new way of educating medical students while training them to provide better health care for the State of New Mexico. Construction of the Bernalillo County Indian Hospital began on Lomas Blvd. In 1961, the UNM School of Medicine was founded by the State Legislature.  
The First Internal Medicine Residencies 
Throughout the 1950s and 60s there were three hospital-sponsored internal medicine internship/ residencies offered in Albuquerque.  
In 1962, the University of New Mexico Department of Medicine combined the three hospitals into one residency with 24 residents in a three-year residency program under the direction of Dr. Sol Papper, the Chairman of Medicine. The first class of 24 students began studies in 1968 in a converted mortuary and 7-UP plant.  
The resident salary was approximately $4,200 to $5,400 per year, with additional benefits (including salary) to married residents. The medicine service cared for all the medicine inpatients including Family Medicine patients. 
A National Leader in Medical Education 
In the 1970s, the University of New Mexico took over the Bernalillo County Hospital and began building the North Campus, which included the School of Medicine. By 1995, UNM had the largest student and faculty populations of Hispanics and Native Americans in the country.  
Today we continue to commit to improving health and health care in New Mexico by providing the best medical education, research, and clinical care. 
Watch Dr. Kendall Rogers give an overview of the UNM Hospital history. 
Program Directors
Dr. William Hardy
The Chairman of Medicine remained the Program Director for most of the early years of the department. Dr. William Hardy assumed responsibility for the program in 1970. 
Dr. Ann Gateley
In July of 1994, Dr. Ann Gateley took over as Program Director and, over the next two decades, expanded the residency to 74 residents. 
Dr. Betty Chang
In March of 2009, Dr. Betty Chang became the third Program Director for the University of New Mexico's Internal Medicine Residency program. 
Dr. Jennifer Jernigan
Dr. Jernigan was named Vice Chair, Office of Education and Residency Program Director for Internal Medicine on July 1, 2013. Under her guidence residency has expanded to 100 residents.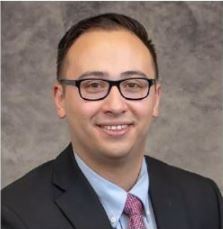 Everyone here is friendly and it makes it a very enjoyable learning environment. Additionally, we have a robust training program and I know I will be able to work anywhere after I graduate from UNM.
—
Mario Flores, DO
, Residency Class of 2023
Internal Medicine Residency
Office of Education 
Department of Internal Medicine
MSC 10-5550
1 University of New Mexico