UNM College of Pharmacy
A pharmacy movement beating in the heart of New Mexico.


Historically at the cutting-edge of pharmacy, New Mexico is where elite pharmacists and pharmaceutical scientists are trained. With unrivaled learning experiences and world-class mentors, The University of New Mexico is the premier destination for quality pharmacy education.
Apply today to learn cutting-edge patient care models, gain countless hours of hands-on experience, and become part of our wide pharmacy professionals network.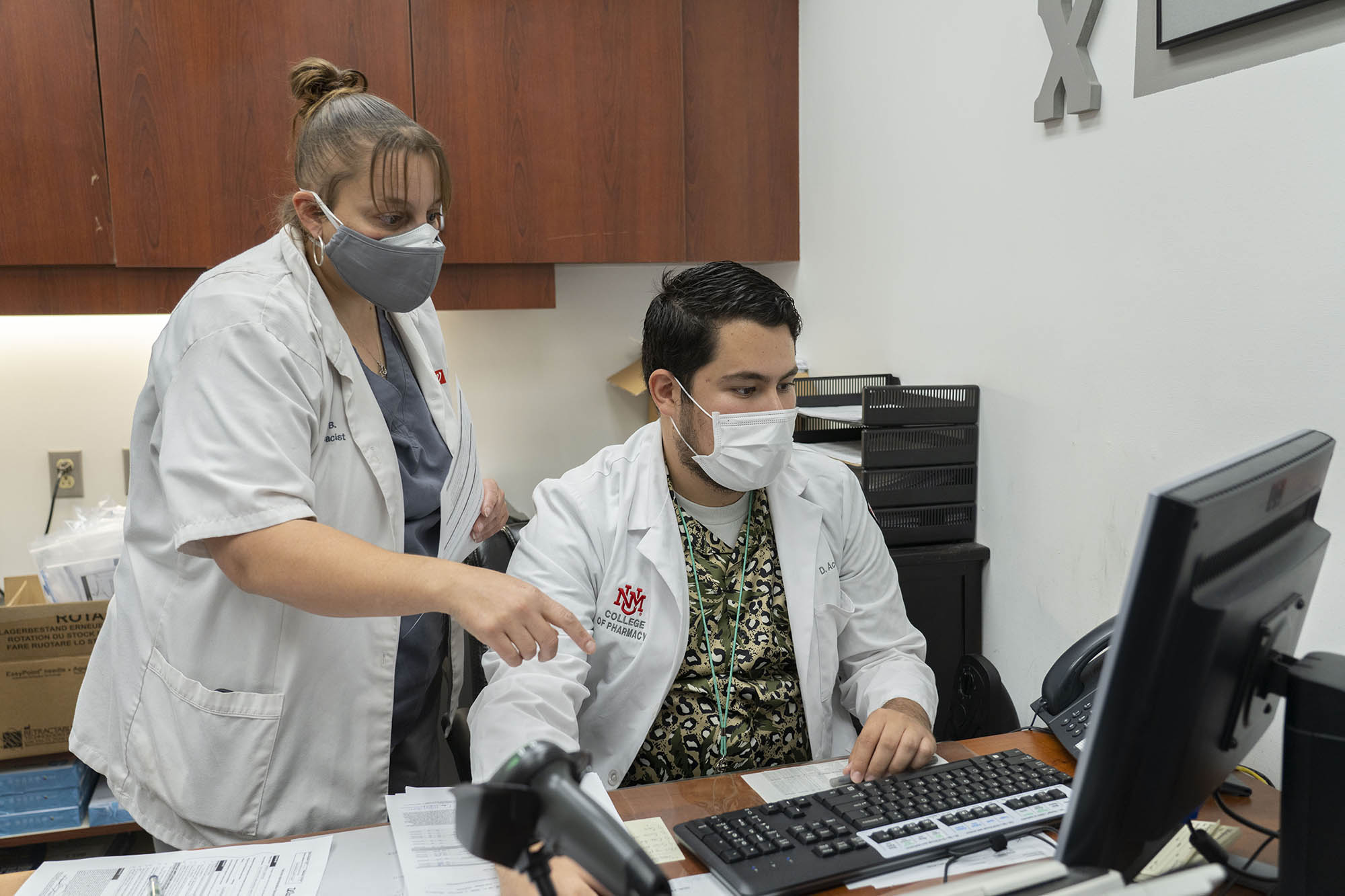 Mentors
Our world-class faculty in both Pharmaceutical Sciences and Pharmacy Practice will provide mentorship and advisement throughout your 4 years of PharmD training and after as alumni of the College. They will guide you as you find your path and destiny in pharmacy. From a journey to a pharmacy residency to a Master's degree in our PharmD/MS dual degree program to obtaining a great job in hospital or community pharmacy, our faculty will be here to guide you in that journey.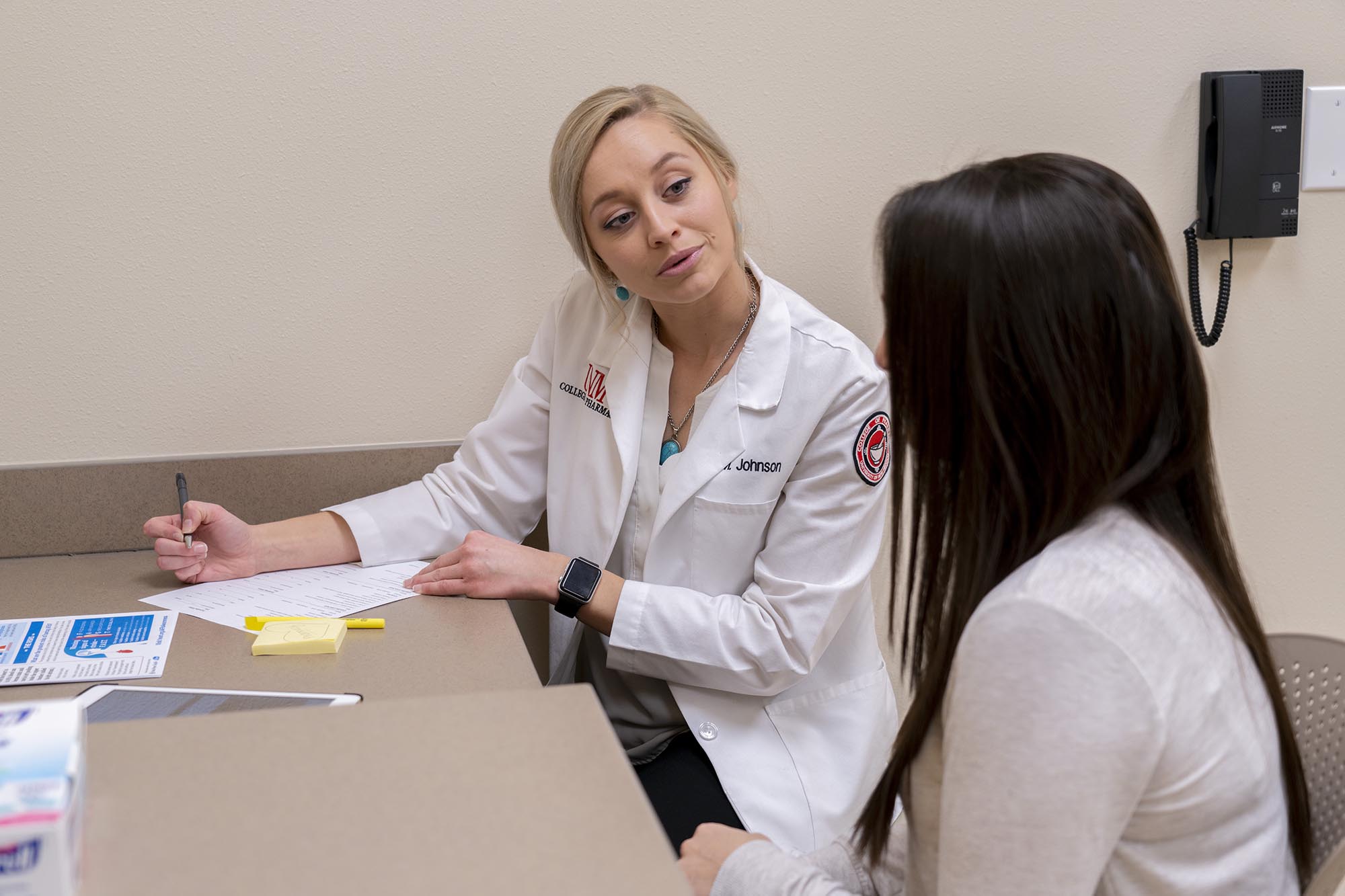 Advanced Patient Care models
New Mexico has the most progressive pharmacy practice models in the United States and our faculty are constantly pushing the envelope to expand that practice. Work with Pharmacist Clinicians as they treat patients in a variety of clinical settings. Be part of the action as physical exams are performed and lab tests are ordered to provide the best data to manage patients' medication therapy. Train with other advanced practice pharmacists out in the community as they serve the public health needs of the people of New Mexico through the administration of vaccinations, tobacco cessation prescription medications, hormonal contraception, travel medications, and tuberculin skin tests.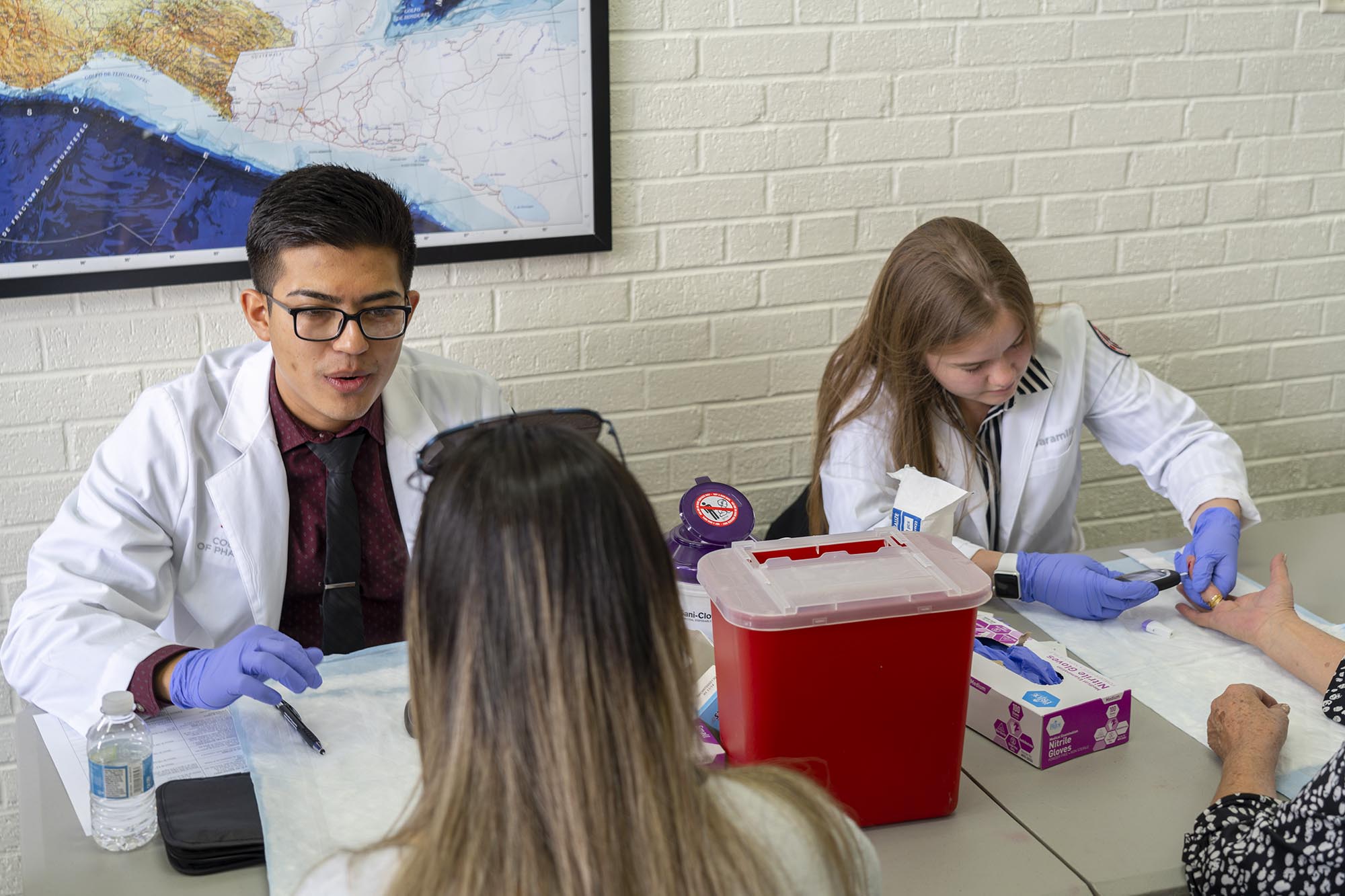 Values of Service
Come to the University of New Mexico College of Pharmacy where the students, faculty, and alumni are committed to giving back to the people of New Mexico through community service. Choose your passion from the wide variety of community service projects offered by the College including health screenings, immunization clinics, poison prevention education, atrial fibrillation screenings, education about the dangers of prescription drug abuse, and many, many more. You can also create your own community service project as students recently have done for fall prevention in the elderly and enhanced diabetes education. Whatever your passion, it can be fulfilled while providing healthcare services and education to the many underserved population of New Mexico.

Worried about out-of-state costs?
We have you covered.
Our out-of-state scholarship could help you offset the additional costs of attending your first year while you establish residency. Unlike other programs, the UNM College of Pharmacy allows you to establish residency for tuition purposes after your first year, allowing you to pay in-state tuition for the remainder of your time in the program.
How does the out-of-state scholarship work?
You can potentially receive a $20,000 scholarship for your first year while you are still considered "out-of-state"
Within the first 12 months, you establish your residency in New Mexico through overt acts such as

Registering a vehicle
Receiving a driver's license
Registering to vote
Receiving full-time employment
Leasing a home or apartment in New Mexico
Enrolling for utility services in New Mexico

After establishing your residency, your tuition status will be updated to reflect in-state costs

Annual tuition and fees
Out-of-state
(with scholarship)
$24, 750
In-state
(after residency is established)
$21, 970
Out-of-state
(without scholarship)
$44, 750
Prospective Student?
Take a Virtual Tour
See your new campus
Learn about our campus on this virtual tour with admissions advisor Katie Gentsch.
Apply to be a Pharmacist
Ask a Student Pharmacist
A Q+A session with 3rd year student pharmacists Joshua Alcon and Rachel Crusius. Tune in as they answer your commonly asked questions about pharmacy school.
Rewards of a Pharmacy Career
Interviewing at UNM
Interview season is here! Are you interviewing with us soon and would like to know what to expect? Check out this video explaining our Multiple Mini Interview (MMI) process at the University of New Mexico College of Pharmacy.
Pharmacy is the Future
For 75 years, the UNM College of Pharmacy has cultivated pharmacists and pharmaceutical scientists who are inspired by their communities and driven by the spirit of discovery. Will you join this Pharmacy movement beating in the heart of New Mexico?
Become a Pharmacist
Currently Viewing
Take a Virtual Tour
Currently Viewing
Ask a Student Pharmacist
Currently Viewing
Interviewing at UNM
Currently Viewing
Pharmacy is the Future
Student Services Contact
Office of Student Affairs
Nursing/Pharmacy Building, Suite 188
College of Pharmacy
ATTN: Student Services
MSC09 5360
1 University of New Mexico
Albuquerque, NM 87131-0001