Continuum of Care aims to improve and sustain the quality of health and health care for people with intellectual and/or developmental disabilities in New Mexico. This project at The University of New Mexico Health Sciences:
Provides advocacy, training for health professionals, clinical services, policy reviews and policy recommendations
Makes clinical consultations and teaches clinical services
Supports ongoing improvements in the field by:

Evaluating our efforts
Incorporating new findings into trainings and services
Developing new research
Sharing findings
Supporting New Mexicans
Throughout life, the approximately 32,000 New Mexicans with developmental disabilities should have access to complete health care and support services. Continuum of Care's experienced staffers help health professionals learn how to give these residents culturally sensitive, respectful care.
Map
Contact the CoC Staff
To request consultation or if you are seeking more information, call Main: (505) 925-2350; Fax: (505) 925-2389 or toll free 1-877-684-5259 and indicate your specific questions or concerns; the appropriate consultant will get back to you as promptly as possible.
All numbers below are area code (505)
Our doctors' names (underlined) link to their 'find a doctor' page at HSC
Click on the photos below to see individual biographies of the Continuum of Care staff.
Jenny Vickers, MD
(Neurologist and Principal Investigator)
925-2350 (CoC Office)
jvickers@salud.unm.edu
Ingrid Nelson, MS
(Senior Program Manager)
925-2374 (direct)
imnelson@salud.unm.edu 

Teresa Natera
(Unit Administrator I)
925-2350
tnatera@salud.unm.edu
Alfreda Begaye, CMA
(Clinic Coordinator)
925-2378 
abegaye@salud.unm.edu

Jennifer Reed, RN
(Nurse Case Manager)
925-2340 
jjreed@salud.unm.edu

Alia Manning, RN
(Nurse)
925-2383
alimanning@salud.unm.edu

 

Juan Larrañaga, MBA
(IT Support Tech II)
925-2387
Larranag@unm.edu
Carla Fedor, RN, CDDN
(Nurse Manager)
925-2383
cfedor@salud.unm.edu
Yvette Mascareñas,

 

MS, RD, LD, CDE
(Dietician)
272-1091
YCruz@salud.unm.edu
CORE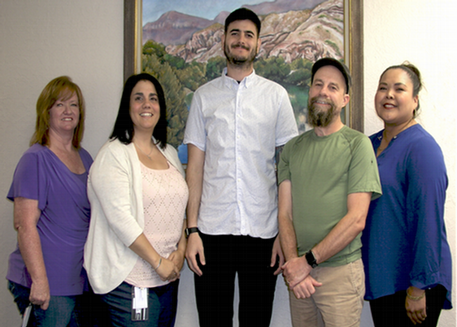 The CORE Teams vision and mission are as follows:
Vision:  To empower, inspire, and advocate for individuals with I/DD in New Mexico, to live meaningful lives by promoting Person-Centered services.
Mission:  To efficiently provide an objective, multidisciplinary review process to refine the scope of services for all individual's on the DDW in New Mexico.
Ren

é

e Lombardo
Program Manager
925-2350 
RLombardo1@salud.unm.edu
Dian Dahl
Unit Administrator II
925-2350 
ddahl@salud.unm.edu
Laurence Mirabal
Information Technology Database
925-2331
lmirabal8689@salud.unm.edu