IIKD Partners with City of Albuquerque to Provide Training
December 10, 2015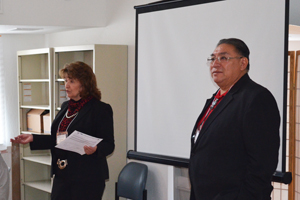 The Institute for Indigenous Knowledge and Development (IIKD) partnered with the City of Albuquerque to provide cultural humility training to the staff and partners of the Familty and Community Services Department.
IIKD's training entitled "Cultural Humility: A Best Practice for Serving American Indians in New Mexico"  is 4.5 hour, highly interactive, multi-method orientation to the needs and cultural and social interactions of Native Americans residing in Albuquerque as well as to the tribal communities in NM in general.
Topics offered in each workshop include a brief review of Native American demographics; historical events; a timeline of federal policy impacting the lives of American Indians in NM and nationally; social determinants of health, healing, and well-being; a review of protocols when visiting tribal lands; a review of the concept of cultural humility and cultural humility versus cultural competence; exploration of the unconscious biases that exist in relation to perceptions about Native Americans; examples of historical traumas that continue to influence American Indian health and well-being, and a panel presentation by Native Americans who have experienced or who are currently experiencing homelessness in Albuquerque.
Each training session is evaluated by the workshop participants.  The results can be used by health and human services agencies to identify strategies and policies for achieving meaningful services delivery and relationships that can lead to an improved quality of life for Native Americans living in New Mexico.
To date IIKD has provided two training sessions with additional training sessions resuming in January 2016
Previous Training:
November 13, 2015 – All Nations Wellness and Health Center
December 4, 2015 – Presbyterian Hugh Cooper Administrative Center
For more information about this initiative please contact Dr. Tassy Parker or Norman Cooeyate.
Contact CNAH
MSC07 4246
1001 Medical Arts Ave NE
Albuquerque, NM 87102
Physical Location:
Integrity Building
2nd Floor