An Evening of Networking
October 21, 2015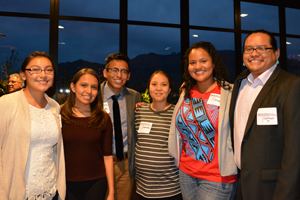 On Wednesday, October 21, 2015 CNAH participated in IIKD's Community Health Assessment Workshop (CHAW) by co-hosting a Student/Professional Mixer at the Event Center at Sandia Golf Club. This event is one of many past CHAW mixers aimed at preparing students and tribal communities for students returning home after graduating and transitioning into the workforce.
In attendance were UNM Hospital Residents; students from the Health Sciences Center (HSC), main campus, and law school; tribal leaders, CHAW participants, Indigenous health advocates; and HSC staff and faculty. Guests warmed up to one another by participating in a fun ice-breaker activity and received insightful information and connections. This evening of networking also included hearty refreshments a beautiful view of the Sandia Mountains.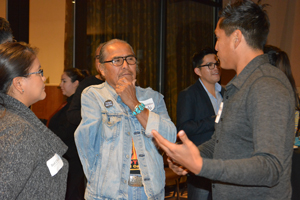 We thank all those who attended, especially our tribal leaders, Governor Raymond Loretto (Jemez Pueblo) and President Duane Chili Yazzie (Shiprock Navajo Chapter). We had great company that evening and we look forward to future networking activities.
Contact CNAH
MSC07 4246
1001 Medical Arts Ave NE
Albuquerque, NM 87102
Physical Location:
Integrity Building
2nd Floor