UNM Welcome Back Days Fall 2015
August 17, 2015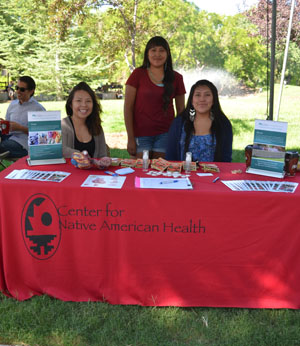 CNAH-IIKD joined in welcoming back students in the annual UNM "Welcome Back Days" festivities held on main campus and at the Health Science Center (HSC) August 17th through August 21st.
CNAH tabled at the Duck Pond on the first and second day of school for the University Showcase Day; and Safety, Health, and Wellness Day. CNAH-IIKD also participated in was the HSC Welcome Back day, where CNAH-IIKD shared a table with the student organization Society of Native American Health Professions Students (SNAHPS); UNM's American Indian Student Service (AISS) Welcome Back Social; and the College of Nursing Round Robin.
It was exciting to be on campus and meet with new and returning students. The campus was buzzing with activities, free ice cream and watermelon, and campus information was made available for students to take advantage of.
We would like to extend our thanks Student Activities, AISS, and the CON for allowing us to table at your events! We look forward to the new semester and ongoing partnership. Go LOBOS!
Contact CNAH
MSC07 4246
1001 Medical Arts Ave NE
Albuquerque, NM 87102
Physical Location:
Integrity Building
2nd Floor