MPH Student Reflects on Internship at CNAH-IIKD
August 27, 2015 - Lindsey Platero
CNAH-IIKD had the pleasure of Lindsey Platero join our team for the summer. Lindsey interned with us from June to August. Ms. Platero's wrote a short reflection (below) on her time spent at CNAH-IIKD. We wish her the best of luck on the upcoming semester.
---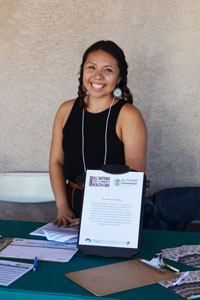 My name is Lindsey Platero and I am Laguna Pueblo and Navajo. I am currently a second year graduate student at the University of Minnesota School of Public Health and am working on attaining my Master's of Public Health in Administration and Policy. I am a former Lobo and graduated with my B.A. in History from the University of New Mexico.
I chose to intern with the Center for Native American Health – Institute for Indigenous Knowledge and Development (CNAH-IIKD) because I felt that their mission and values were very similar to what I would like to do within my career. I knew that interning with CNAH-IIKD would give me the opportunity to interact with the New Mexican American Indian community in a multitude of ways and expand my own knowledge on how I could effectively make change in American Indian health.
During my time interning with CNAH-IIKD I was able to participate in a number of different activities. These include, the Community-Based Participatory Research Institute, the unveiling of the Pueblo of Laguna Resource Guide, the production of a cultural humility training module, co-creating a lesson plan and presentation for the Summer Policy Academy, research on various topics, and taking part in CNAH outreach through the Students of Medicine Luncheon and CNAH-IIKD's annual Welcome Back BBQ.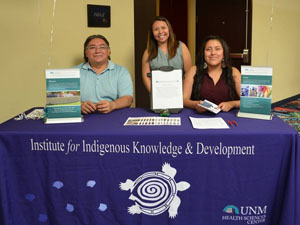 My favorite experience this summer was being able to take part in the All Nations Family and Community Health Fair. It was a true representation of the unique and passionate work that CNAH-IIKD has for the American Indian Community. It showed the enormous effort that was put into collaborating with community members and partners in order to create a successful and educational event for all.
Some of my most memorable moments were being able to take part in CNAH outreach among the students of the University of New Mexico and more. This includes a presentation on the determinants of health and co-creating the lesson plan, "Stem & Root Causes" for high school junior and seniors.
"Stem and Root Causes" helps define a holistic view of the causes of health issues among minorities. I was also able to compile a menu of resources for the All Nations Wellness and Healing Center, which lists a number of community resources that can be utilized by the members of the center.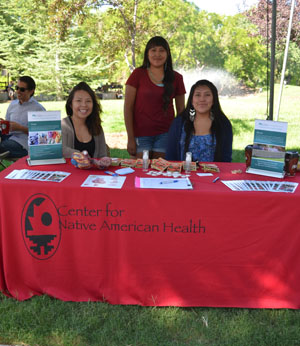 I am forever grateful for my experience with CNAH-IIKD. The skills I have been able to refine and the knowledge that was passed on to me by each of the staff members will forever be implemented into my work ethic.
What CNAH-IIKD is doing with American Indian students and community members is unlike anything I have witnessed. Each member is passionate, personable, and has a vision for the future of Indigenous health.
They have shown me that investing in a student's education and serving as a reliable resource can truly inspire others. I am excited to have been a part of an amazing team and am excited to see what they accomplish in the future.
Contact CNAH
MSC07 4246
1001 Medical Arts Ave NE
Albuquerque, NM 87102
Physical Location:
Integrity Building
2nd Floor