SNAHPS & CNAH-IIKD Team up for the SOM Student Organization Fair
July 13, 2015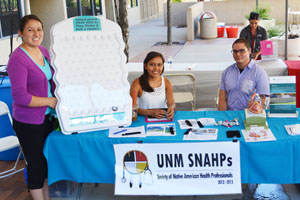 The Society for Native American Health Professions Students (SNAHPS) and CNAH-IIKD shared a table at the School of Medicine (SOM) Student Organization Fair at the Eaton Plaza-UNM North Campus on Monday, July 13, 2015.
This event is part of the SOM new student orientation process to welcome the new cohort of medical students and introduce the resources that are available at the UNM Health Sciences Center. We had the opportunity to speak with first year Native American medical students and provide information including the services offered at CNAH and how students can get involved with SNAHPS.
We are glad to have met with each Native American student and we are impressed with the number of male Native American students in this year's cohort. We look forward to getting acquainted with first year students. We also like to wish all the new and returning students the best of luck this semester!
Contact CNAH
MSC07 4246
1001 Medical Arts Ave NE
Albuquerque, NM 87102
Physical Location:
Integrity Building
2nd Floor