CNAH-IIKD Hosts Annual Welcome Back Barbeque
August 13, 2015 - Fun in Abundance at the Annual Barbeque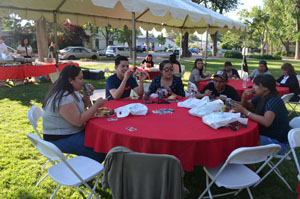 CNAH-IIKD hosted its annual Welcome Back Barbeque on Thursday, August 13, 2015 at Bataan Park in one last hoorah before the start of the fall semester. Students and staff who attended the barbeque enjoyed playing ultimate Frisbee and card games and delicious food.
We like to begin each of our events with short introductions. This event was no different we asked each student to tell us their name, degree program and to answer the question "What food item would you compare your summer to?"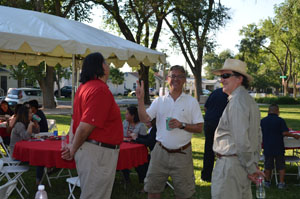 One student compared their summer to rice in that it wasn't as exciting but it was still good. Another student compared their summer to popcorn in that they felt like they were popping up all over the country due to travels for internships and conferences.
Following introductions we dived into the BBQ and ate to our heart's content. Some students started a game of ultimate Frisbee while others socialized or played card games. We enjoyed everyone's company as we learned more about one another. We look forward to future events with students and wish them a successful semester!
Contact CNAH
MSC07 4246
1001 Medical Arts Ave NE
Albuquerque, NM 87102
Physical Location:
Integrity Building
2nd Floor